Science, Technology, Engineering, and Math, Oh My!
By: Alejandra Espinoza
@owlfeed_ale
Agua Fria High School hosted the district-wide STEMCon, previously named STEM Expo on February 15, bringing together over 800 students, family members and community members.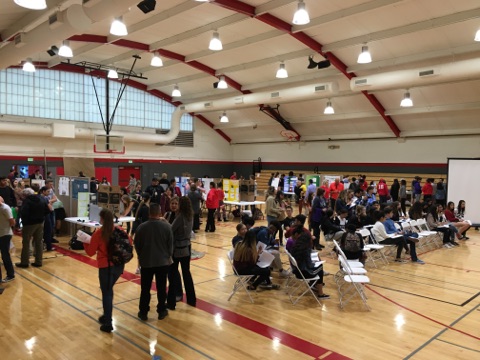 Students had the chance to showcase their amazing skills, network with professionals and win amazing prizes at STEMCon. At the event there were several competitions and presentations going on at the same time. There were food trucks, college representatives showcasing their STEM programs and even snakes and turtles!
Mrs. Andrea Hudson was one of the teachers who helped set up the event. She said planning StemCon took "months of collaboration between lots of teachers. It was long. Probably from the beginning of the school year until February." She said she was satisfied with the outcome, saying that, "I feel that the community definitely participated from all four schools."
Mrs. Hudson said the location of STEMCon next year will be at the new school in the district, Canyon View. She said that for next year some things that could be improved would be the way some projects are set up because the wind kept knocking them down.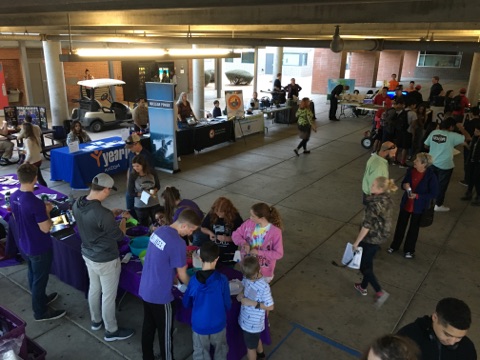 She said her favorite parts of STEMCon were  the QuizBowl, a Jeopardy-like game, and the Rube Goldberg competitions. "When we were doing the QuizBowl and everyone was cheering on our teams and then at the same time we heard a bunch of cheers for the Rube Goldberg so it was cool to hear kids super excited about that since it was purely academic," she said.
The winner of the Rube Goldberg was Kobe LaChapelle, a senior from Agua Fria High School. "Getting first place was a big surprise," Kobe said. "We won $500 split among the four of us, each ending with $125. We made the machine as a project for physics and just setup and tested over and over again to fix any problems that may take place when the judges come to grade."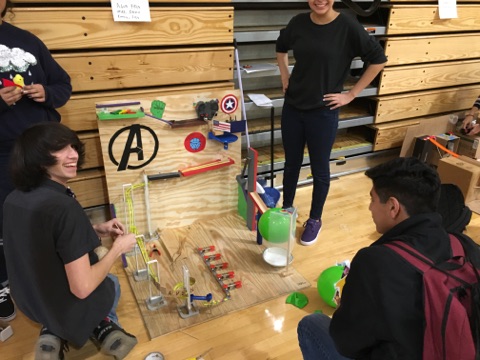 When he was asked if there was anything that discouraged him along the way he said, "Finding out we had to do 15 steps really discouraged us, we never thought that we could even come up with that many steps; especially execute them to make it work." In the end the group prevailed.
The STEM field has brought unity and spirit within these schools in just a short amount of time. Hopefully as the years progress, students will keep cheering on their local mathletes.