AFHS Forensic Science Students Tour GCU Facilities
By: Jen´na Brown
OwlFeed Journalist
On Tuesday, March 6, a total of 70 to 80 students from Agua Fria High School went to Grand Canyon University for Forensic Science Day.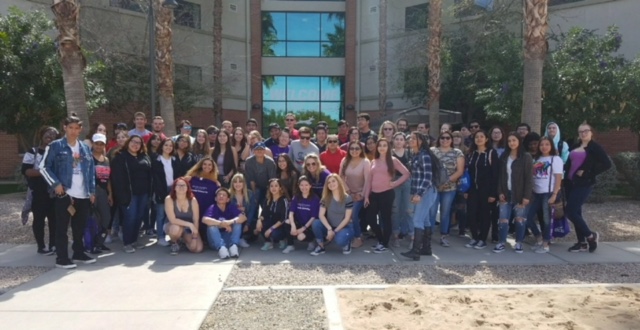 Forensic Science Day is an event where students from multiple schools in the area are invited onto Grand Canyon University to learn more about the field of Forensic Science and all the different career paths you can take.
The trip started by us walking on GCU´s campus to hear music playing and seeing multiple booths set up with posters displaying which activity was there.
¨It was all college kids running the booths and teaching you about what they do in college and what they do in forensic science,¨ said Hayley Marshall, a current Junior at Agua Fria high school and student in Ms. Ferguson´s forensic class.
There were campus tours that students could attend and admission information readily available to the students there.
¨I think it is exciting for the students to see what is happening in college to know what to expect and not to fear the unknown [and] gives the students the opportunity to see many things and ask questions in the comfort of [their] own class," said Mrs. Heffington, library media specialist and webmaster at Agua Fria High School.
At the event there were multiple ways for students to be involved. There were different labs that were set up to display subjects such as: blood spatter analysis, fingerprint analysis, firearm and ballistic patterns. There was even an activity where students could come together and work through a crime scene, find out what happened and find potential evidence.
We also were able to listen to lectures from multiple forensic experts on subjects of: the examination of firearms in forensics, the role of a forensic technician during an autopsy, crime scene investigation, forensic dentistry and forensic science in general and the law.
On the trip, we got to go into one of GCU´s cadaver labs which is where bodies that were donated to research are held. While in the cadaver lab, multiple students at GCU showed us different parts of the body and explained to us what they do and how different parts of the body look after decomposition of the body.
¨I enjoyed that we were able to look at a human body and see the different body parts come together to create something so fascinating¨ said Alan Castillo, a current junior in Ms. Ferguson´s Forensic Science class at Agua Fria.
While on the forensic science field trip, we were able to explore GCU´s campus and look more into the life of a college student as we passed multiple friendly college students on their way to different classes. This trip helped students to think more about the future and what they want to do in college.
¨After the trip I put my ACT scores to GCU and was interested in the forensics field because of how well the trip was put together and how much I learned about the school, the students and the forensics field,¨ Hayley Marshall said.