My Experience as A Volunteer Ref
By: Alejandra Espinoza
@owlfeed_ale
Our competitive society has mixed views about participation trophies. Recently I've become a referee for youth soccer ages 5 to 6. I do this all for free and I work with other volunteers.
Since this is recreational soccer and I am just a volunteer, I did not need to know the sport when I started. I quickly caught on and I have gained an appreciation for the sport. Every game I ref games with Priscilla Arroyo. When I asked her what her favorite part of reffing is she said, "Being able to communicate with children and seeing how talented they are, as well as seeing them achieve their goals. Literally."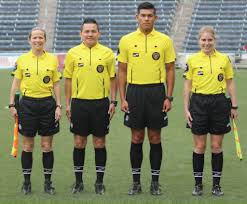 Helping the children is very rewarding and there's always a child running the wrong way, which makes our job more fun. When she was asked what the hardest challenged she's faced while reffing she said, "I struggle keeping up with the game while the parents are trying to give their input and opinions. They make it a challenge for me to run the game correctly… but aside from that I love working with kids so I do it anyway."
There have been several times that we have received complaints from parents and coaches, but as a referee, we have to be certain in our calls. Recently Priscilla could not come in, so I needed some extra help. First time ref, Jaeden Andrade said, "Volunteering as a ref was super fun from a couple different viewpoints, on one side it was almost nostalgic because I played a lot of sports as a kid, and because I'm helping out the community." Being able to volunteer and ref these games seems to has made us all gain an appreciation for the sport.
Arturo Silva, a certified referee for the big leagues, said, "The hardest thing about reffing is trying to keep everyone happy! It is impossible to achieve this because it does not matter what call you make. There is always going to be someone watching you that disagrees with what you called."
Adults can be more aggressive than 5 year olds, so when he was asked what the most dangerous situation he has been in he said, "A frustrated player came up to my face and threatened to beat me up and as I showed him the yellow card, he smacked the card out of my hand."
While this job can be dangerous it has several perks which includes all expensive paid travel. "I have traveled to Prescott, Arizona; Flagstaff, Arizona; Durango, Colorado; Seattle, Washington; and I'm planning on going to Honolulu, Hawaii this year," Arturo said.
Helping the community can be done in various ways which may even be able to someone find their future career.