Teachers Demand Higher Pay in Red for Ed March
By: Jaz Rice
OwlFeed Journalist
It is no surprise that teachers, especially those in Arizona, are paid very low salaries.
On March 28th many Arizona school teachers gathered at the State Capitol to demand a 20% pay increase. So far Governor Doug Ducey has agreed to a 1% hike, but that is not going to cut it for many educators in the Valley.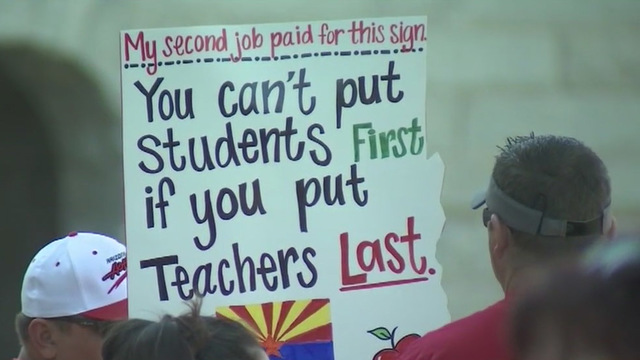 The protesters have a list of demands that include but are not limited to: competitive pay, restoration of per pupil funding, permanent salary with annual raises, and no tax cuts.
According to azcentral.com, Noah Karvelis said: "We have teachers who are trying to scrape together anything they have right now, teachers who are living at home with parents even though they have a master's degree and 20 years of experience. So to pass another tax cut right now is a slap in the face."
The issue of the salary hike comes from the data of the National Education Association put average pay in Arizona at $47,218, a figure the association said ranked 43rd in the country! All teachers deserve a better salary because they are educating the future generation.