'Fun Home' Musical Captivates Viewers with Plot and Acting
By: Lauren Mitchell
OwlFeed Club Member
This past summer during my friend's birthday, we were given season passes for ASU Gammage musicals that are coming in the next few months.
The first one on this musical adventure was Fun Home on September 6th. This musical is PG-13 because of sexual innuendos and cursing regularly.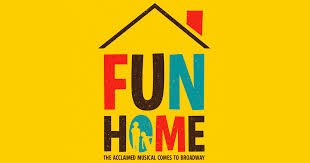 After Allison's father (Robert Petkoff) dies unexpectedly, Allison searches through the past to find answers and secrets that hide in her family. The story takes place in two main settings, both dive deep into the past of Alison Bechdel's (Kate Shindle) life.
One takes place in her childhood where she plays at "Bechdel's Funeral Home," her family's funeral home. The other takes place when Allison's in college and she is growing her understanding of her sexuality. As Allison switches between these two times in her life, you begin to see the deep secrets her dad hid away.
This musical was amazing and although I did not see it on broadway with the original cast, I would say that the cast that played at ASU Gammage did a great job.
The children who played Allison and her two brothers both did fantastic, especially for being so young and being able to sing and act so well. Young Allison (Carly Gold) gave the show comedy in a innocent child meets the world around her humor. For example, one song they sing is called "Fun Home" where her and her brothers make a commercial singing about their dad's funeral home.
The "medium Allison" (Abby Corrigan) had amazingly portrayed the Allison we'd expect in College especially after seeing her childhood. Since Allison, at this time, is in college she is trying to find her sexuality and she DEFINITELY finds it.
This song is hilarious for the viewers, but most likely awkward for the actresses (notice how I said actresses). After meeting Joan (Victoria Janicki), Allison and her begin to date and then the an awkward scene happens. (It's so weird watching this with your friend and her mom.)
The Allison in the present doesn't seem to be that big of a character besides narrating, but sometimes something happens and you're like "what just happened?" She will then explain it and it's importance to her dad and the storyline. Sometimes it could confuse me because of all the switching between timelines, but it all ended up making sense in the end.
This musical was great in my opinion! I would definitely see it again. Maybe if I watched it again I would understand even more of the hints.
All in all, this musical was a 8/10 for me. The best parts were the plot line and acting. There are a few things that could be better though. It was a bit confusing to understand in my opinion.
In 2015, this musical was given 5 Tony awards, including Best Musical. The New York Times saif that it was, "Heart-gripping and cathartic, FUN HOME occupies the place where we all grew up."
The Wall Street journal said that FUN HOME "demonstrates how much our world has changed and reflects just how far we've come."
The Huffington Post claimed that  the musical was, "MUSICAL THEATRE AT ITS BEST. FUN HOME is an emotional roller-coaster ride, a grippingly heartwarming story mixed with some of the most smart and joyful musical numbers presently on Broadway. Seekers of provocative, invigorating and entertaining theatre will find it. You'll be surprised, and thrilled, and enthralled."
If you ever get the chance to see it, I would say go for it! This musical is worth the watch!