Beauty Products You Should Try (Part 1)
By: Kirsten Meyers
@kirsten.meyers6
Lifestyler/Opinion Journalist
When you're first starting out with makeup, it can be troubling to find what products best fit you. Makeup has a love/hate relationship, meaning you can hate this product by a brand and then try another product by that same brand and love it. It all depends on what you're into products wise.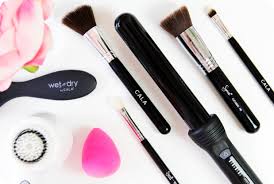 Foundation is going to be first on this list. Foundation can be hard to find in your color at some times and feel as if you need high end brands for foundation. However, not to worry I have some brands from different people as well as my opinion going into this to help some of you guys who do have trouble finding your color.  Let's start with the low ends of makeup brands.
Foundation
Cover Girls Clean
My personal favorite for a while has been Cover Girls Clean. This is gentle on the skin, and it works for my combination skin. This foundation usually sells for $5.94 at Walmart and $6.99 at ulta.
Positives: It makes your skin feel light and airy. It's cheap, and you really get a bang for your buck. A drop goes a long way.  This foundation is aimed more towards people who don't wear a lot of makeup and just need something to cover up a bit of their acne.
Cons: It's harder to find darker shades for the foundation, It's not long lasting unless you have a loose powder, and it's not cruelty free.
L'oreal True Match
This foundation is honestly hands down one of the best drugstore beauty products I have tried as far as foundation goes. This foundation comes in every shade possible, it's easy to blend along with there is no fine lines after hours of wearing coverage, and it isn't rough on the skin, this retails at $10.95.
"I love this foundation because I have combination skin and it doesn't make me look oily. It also doesn't feel heavy on the skin either," Hope Laborin said.
The pros: It comes in almost every shade, a little drop goes a long way, you really get a bang for your buck, it doesn't break you out, and it's perfect for combination skin.
Cons: It isn't cruelty free, it honestly depends on the person when it comes to the type of skin combination they have.
High End Foundation
"I really like this brand because it's cruelty free, and it fits everyone's skin tones. However It can be a bit pricey for a drugstore but it's worth the money," Ariana Moreno said.
This product is 1 fluid ounce which is around 3.7 liters of coverage which isn't that bad when you look at the price, this product goes for $14.95. It comes in just about every shade and it doesn't irritate your skin like some products do.
Pros: This product applies on smooth and doesn't make you look greasy even though it has SPF.  The shade ranges are fantastic and it doesn't give you wear lines and it's vegan.
Cons: It's a bit pricey and it's medium coverage so if you're looking for a full coverage ditch this product.
This foundation is full coverage, and doesn't cake on your face. This product is vegan and cruelty free. It gives you a natural look, while still making you look elegant.  This product retails around $40.00.
Pros: It's an amazing foundation that gives you full coverage and a little goes a long way it gives you around 1 ounces of product.
Cons: It's extremely expensive.
Concealers
This product is long lasting but not drying on the skin. If you have dark circles you'd be happy to know that it creates a radiant under eye. Your dark circles aren't even recognizable with this product.  This product retails around $9.99 and it's great for all skin types.
Pros: It corrects your dark circles, gives you a nice finished look.
Cons:  It's not cruelty free.
This product hides all the flaws in your under eye area and it gives you a nice finished look when you apply it. It's very spreadable which is nice and doesn't leave you looking cakey.  This product retails for around $29.00.
Pros: It comes in a range of shades which is compatible with everyone, it's vegan, cruelty free, and hides the redness of your face.
Cons: It's expensive.  
Mascara
This product makes your lashes look extremely nice, and gives you a nice effect that doesn't smudge, or sweats off after a long wear. It's a nice look to wear either with a naked face, or full face of makeup.  This product retails at Walmart for $5.45.
Pros: It's easy and cheap!
Cons: It's not vegan, or cruelty free.
This product really gives you a bang for your buck, is smudge proof, long lasting and affordable. This product retails around $11.00.
Pros: It gives your lashes volume without the crazy spider legs going on.
Cons: It's on the more expensive side, but it's still affordable.
This is all for now, I do plan to update this list with the next products such as eyeshadows, lips, and facial oils you should try. Be sure to be on the lookout for part 2 of Beauty Products You Should Try.