My Dream of Seeing 'Hamilton' Came True
By: Lauren Mitchell
OwlFeed Club Member
This was the moment I had been waiting for forever. Seeing Hamilton live had been on my dream board for a while and on February 9th it came true and it was… MIND. BLOWING.
Let's rewind a tiny bit…
A little over two years ago, I was hanging out with my friend Amber Chico. She LOVED Hamilton, but I had never heard a song (yet) so who was I to judge whether it was good or not. I only knew that she loved every minute of every song in the entire musical.
Then, one day as we were picking our EOT, she saw that one was all about Hamilton. Amber convinced me to go with her and I did, not knowing that this would change EVERYTHING.
Mr. Martin, the EOT teacher, explained each song and played each one for the class. Most of the students already knew and heard the songs from Hamilton, but not I. Out of all the songs, one stuck with me: 'Burn with Eliza Hamilton (Phillipa Soo)'. I went home and I kept singing it constantly. Then one song led to another and before I knew it, I WAS OBSESSED.
There is this one day I remember so vividly where I went to my best friend's house, Camryn Sperry, and I couldn't stop singing it at all. She, of course, was like me when I first heard Amber singing Hamilton, she didn't care. But as time went on, she gradually began to love it as well.
Then, Camryn and I spent almost every day daydreaming of seeing Hamilton or reenacting the songs or trying to convince her parents that we NEEDED to see Hamilton. Nevertheless, our dreams were always crushed when we realized that Hamilton was only on Broadway and that those tickets were over $500.
However, our dreams of seeing Hamilton were not over. One glorious day, as I was scrolling through the internet, I saw it, Hamilton was going on tour. Excitement jolted through my body, I texted Camryn and we had a whole party over them going on tour, even though we probably still weren't going to get tickets. Camryn and I repeatedly bugged our parents for tickets, but we always got no answer.
July 6th, 2017. It was Camryn's birthday and we had just got back to her house from hanging out. Her parents handed her a tiny little booklet and they told me to watch her open it. It said "Playbill" at the top and there were just a bunch of musicals in the booklet. Camryn and I were in utter confusion until we reached the last page that had a Hamilton picture and then two tickets for Camryn and I to see Hamilton. This is probably one of the most shocking and exciting moments of my entire life.
Fast forward to February 9th, 2018. Months and months later, it was finally time for this dream to come true. I had sat in that theater before for other musicals, but that time it felt unreal. I was SO excited, but then again scared because I did not want it to start because I did not want it to end.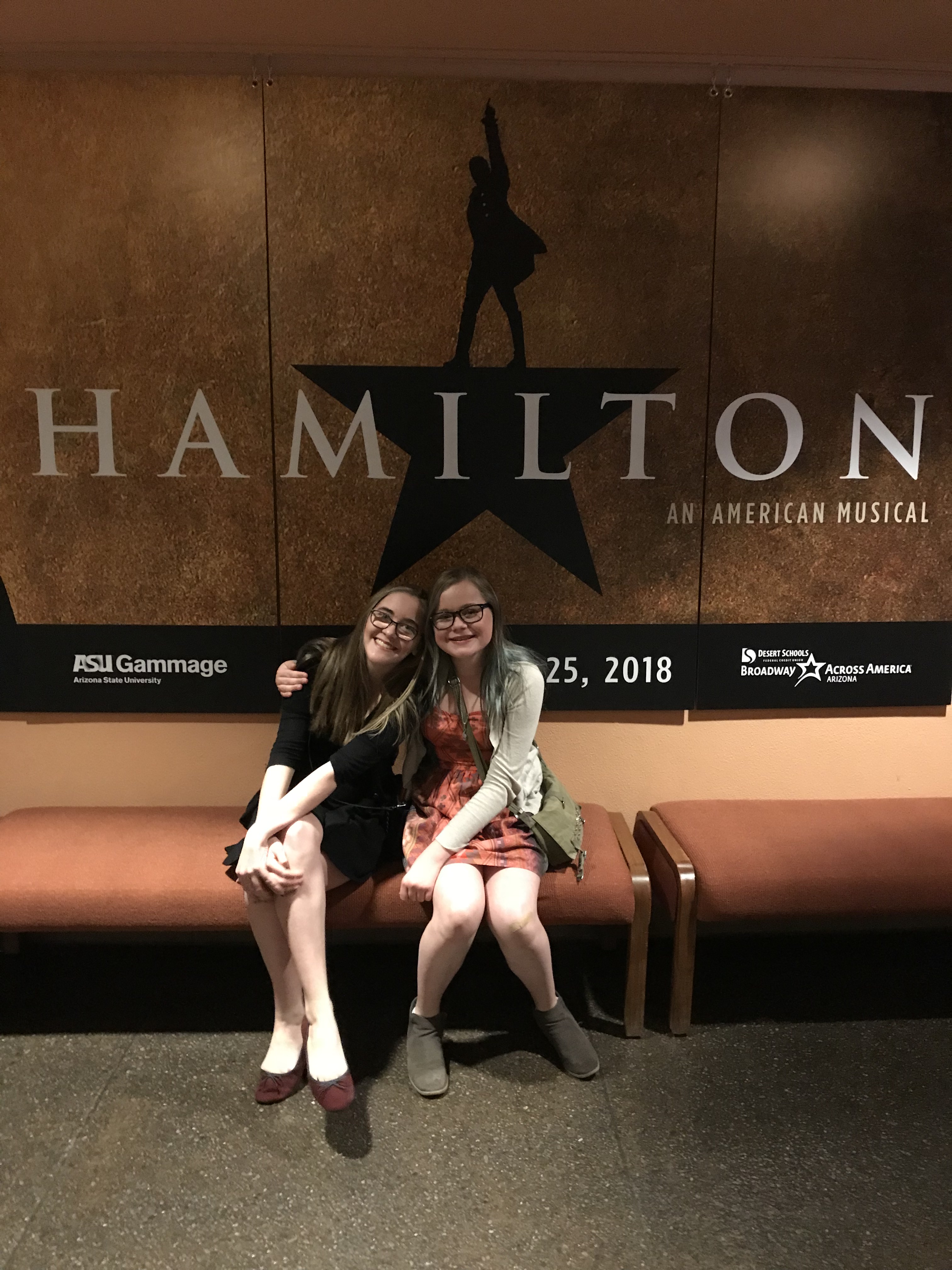 Then it started. EVERYTHING I EVER DREAMED OF. That's how I describe the experience. Now, a lot of people may think I am exaggerating, but no. This musical left me so joyful to see it and so depressed that it was over. I can not describe how perfect the cast was, although it wasn't the original cast, I still felt the magic of Hamilton resonating through me.
After the show, we went right up from to the stage and stared at it. Every piece of the set was so in detail and beautiful. I have never wanted more in my life to go up on that stage and see everything. I know Camryn felt the same way. We longingly stared at the set for so long.
At the end of the night, I got home and it all felt like a dream. My dream of seeing Hamilton came true and it was unforgettable.