Beauty Products You Should Try (Part 2)
By: Kirsten Meyers
@kirsten.meyers6
lifestyle/opinion journalist
Welcome back to part two of Beauty Products You Should Try with the edition of: Eyeshadow, highlighter, lipsticks, liquid liner, lashes + eyelash glue, and primers. These of course will have both high ends, and drugstore products. If you would like to check out the first instalment to this series please click the link here: https://aguafriajournalism.wordpress.com/2018/04/18/beauty-products-you-should-try-part-1/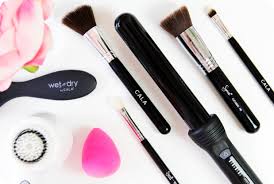 Eyeshadow.
NYX dream catcher eyeshadow palette. $15.00 (drugstore)
I have recently gotten a dream catcher pallet. Out of three of the series I got Stormy Skies for a gift. I use this pallet whenever I decide to put on makeup; it's my go to palette, and it's definitely worth the 15 dollars. I find that these eyeshadows are extremely pigmented especially the glitter ones. The only thing I don't like about this palette is there is a lot of fall out when you go to apply it on your eye. Here's a tip: If you have oily eyelids make sure you use a primer so you don't get the creasing action happening to you.
Fenty Beauty Galaxy Eyeshadow palette $59.00 (high end)
This palette is beautiful, one swipe and you have a lot of product to work with.  This palette is a lot more pricey but totally worth it. You really get a bang for your buck and a little product goes a long way. The palette is on a more glittery side so if you're into glitters then you would love this. The downside is how expensive this is, but I'm not disappointed with this product.
Eyeliner
Covergirl Perfect Blend Eyeliner $4.44 (drugstore)
This eyeliner is simple, easy to work with, smooth, and overall inexpensive. The pencil comes in many different colors, and if you're using this pencil for a smokey eye, you can easily blend this and make it look nice. The downside of this eyeliner is that it breaks down a lot when you go to sharpen the pencil.
This is a gel-based pencil that glides on the skin. It comes in midnight black and stays on. It's smudge proof and extremely blendable. The downside of this product is the fact that it's 25 dollars for one pencil.
Highlighters
True Match Lumi- Liquid Glow Illuminator $12.99 (drugstore)
This highlighter gives you a nice shimmer on your cheekbones, nose, and forehead. This can also be combined with your everyday foundation. Overall, this product gives you a lot for the price and doesn't make you feel oily since this highlighter is a liquid.
Anastasia Beverly Hills Amrezy Highlighter $28.00 (high end)
This highlighter is a pressed in powder, it doesn't make your skin oily, it is smooth, and small product goes a long way. This highlighter makes your skin glow it is that beautiful. The only downside of this is that it is a big pricey.  It's a very beautiful radiant highlighter, I would highly recommend this product.