'Love, Simon' Sends Message of Love and Support
By: Adriana Moreno
OwlFeed Journalist
Recently, the movie Love, Simon has hit the theaters and I was able to see it. The movie's message and theme made my heart melt. It also made me shed a couple tears here and there.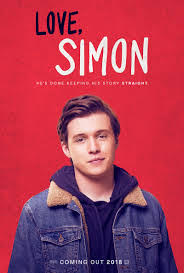 If you don't know what the movie is, then you're in luck because I am here to spoil it for ya.
The movie is based off of the book Simon vs. the Homo Sapiens Agenda.
The plot of the movie is of a seventeen-year-old boy named Simon Spier who has yet to tell his family or friends that he is gay. He falls in love with an anonymous classmate online who he has yet to identify.
Throughout the movie, Simon talks to a classmate online after discovering his post about him also being gay and not knowing how to come out to his family. From there on, Simon continues talking to him, until he ran into a situation.
Now this is where I got mad at one of the characters of the movie. So, a classmate of Simon's named, Martin, read the emails that Simon and the anonymous classmate were sending to each other about their issues with coming out and all. After Martin saw the emails, he took screenshots and blackmailed Simon.
THIS HAD ME HEATED!
Simon was forced to set Martin up with his friend, Abby, or else Martin would leak the screenshots. This caused Simon to create lies and issues between him and his friends.
NOW THIS IS WHERE I WENT BACK TO HAVING MY HEARTBROKEN!
When Simon wasn't able to succeed in getting Abby to like Martin, Martin then leaked his email screenshots on to the school website. This angered me when it happened but it also broke my heart because the anonymous classmate stopped talking to him after he found out about the emails leaking.
From there on, Simon continues to struggle even more because his friends become angry with him for all the lies and mess he did between them for Martin. He also becomes sad because he never got to know who his anonymous classmate was.
Towards the end of the movie, Simon and his friends make up after their theater show. His friends also decide to help him find the anonymous classmate by going to the carnival.
At the carnival, Simon rides the ferris wheel for a while until he finds out the anonymous classmate. This is where I'm going to be nice enough and not spoil who the classmate is. But Simon and the anonymous classmate then fall in love.
My overall review on this movie is that I love it. More specifically the message it gives to young adults in the same situation. It just shows that no matter what friends and family will love and support you for who you are and for what you are. For everyone wanting or are interested in watching it, I would definitely recommend it.