Beauty Products You Should Try ( Part 3:Tools Edition)
By: Kirsten Meyers
@kirsten.meyers6
opinion/lifestyle Journalist
Welcome back to part 3 of Beauty Products You Should Try, but with a twist. I thought since I steered people in the right directions for make-up, I should point them in the right direction for the tools used to put it on. If you haven't looked at my part one or part two, you can click here and here for those article. Now we can get started on the good stuff! MAKEUP TOOLS!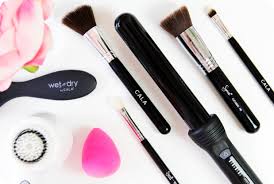 e.l.f Selfie Ready Foundation Brush $6.00
This soft bristle brush gives you a fantastic finished look, it doesn't leave bristle lines across your face, and it blends your foundation really well. However, the downside of this brush is that the bristles do tend to fall out quicker than other brushes. This brush also is on the smaller side which allows your nose to be blended quite nicely.
Bare Minerals Complexion Perfector Brush $34.00
This expensive brush is able to give you precise amount of foundation that allows you to cover up spots, bumpy areas, and it allows thicker creams, and liquid creams to go on smoothly. Overall, it blends out your foundation, giving you a nice smooth look.
   Foundation Sponges/Beauty Blenders
The OG Beauty Blender Limited Edition $20.00
The Beauty Blender is a sponge that allows you to get a finished look without the bristle lines from a brush. Some people prefer the brush and others prefer the blender. The blender comes in many different colors that you can choose from. You can use this Blender damp or dry, it all depends on your preferences.
 Eyeshadow brushes
Pro Tapered Blending Eye Make-Up Brush with Soft Bristles $10.00
If you are just now starting out with eyeshadow and need brushes that will help you blend together your eye make up, this brush set will be perfect for you. They have fluffy brushes that allow you to be able to blend even the harshest lines of eyeshadow. This set is a great dupe for Mac brushes that you don't want to pay over 50 dollars to have a set. These brushes are great for beginners.
    Eyebrow Brushes
Morphe E11 Angled Brow Brush $5.00
If you're more into gel, this brush will help keep your brows at bay. This brush is stiff, allowing you to get the most precise lines.
Morphe MB28 Spoolie $2.00
This Spoolie allows you to brush away too much product from your brows and allows you to neatly brush them up and do whatever you need to do with your brushes. This spoolie is pretty cheap, and is quite nice.
These are just the basic tools that you'll need to accomplish your everyday makeup. I highly recommend these tools.