By: Jaeden Andrade
@idkjae715
So the other day I finally got around to watching A Quiet Place. I loved it and so did critics as it sits at a nice 95% on Rotten Tomatoes. This movie is probably the best horror movie to come out since Get Out which isn't much to say if you've seen the latest Saw movie.
As a huge horror fan, I was curious if this movie was going to be good at all. Many good ideas for horror movies can be badly executed or poorly done, however, this movie was great. This movie also avoids a huge problem that all movies face, which is dragging on for way too long. A Quiet Place cools at a nice 96 minutes.
If I were to have one complaint about this movie, it would be that it is painful to watch these characters go through this apocalyptic life and mess up constantly. Luis Martinez, a reviewer at Rotten Tomatoes,  also shares my pain when he described: "Everything is so carefully obvious that we have no choice but to surrender," which is basically the motto of the movie.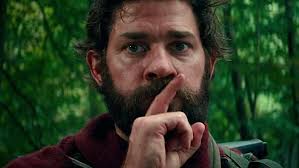 For those who may not know, A Quiet Place is horror movie that is directed, starring, and co-written by Jim from The Office (yes, I know his name is John Krasinski) and that is insane for me to imagine. This is almost as insane as when Jordan Peele made Get Out because before that, he was known mainly for the sketch-comedy show Key and Peele.
Finally, the actual review, this obviously will have spoilers. This movie is so quiet that I could hear someone complaining at the concession stand while the movie was going on. Yes, that was hyperbole but in all seriousness, this movie is quiet, mainly because the characters have to be or else these huge monsters will kill them and probably eat them.
The main climax of this film is when the mother of the family that we've been watching for like an hour gives birth and these monsters happen to be in the house. So she has to give birth while being as silent as possible, but she can't help but let out a scream which was all cool because the monsters were distracted by some very loud fireworks.
Overall I would give it a nice 7/10. Sarah Niezgodzki, Junior Class President , gave this movie a cool 9/10 because "it was enjoyable to watch and it also kept you on edge the whole time."