School-Day Schedule Changes Coming Next School Year
By: Dayshia Stratton
This school year is coming to an end and will soon be welcoming a new year. While the new year comes along there is going to be a big change that follows with it: AFHS is going back to a traditional six-period day. No more hybrid block days.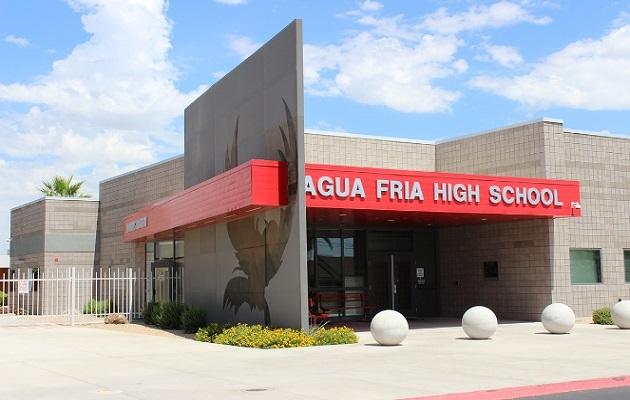 The new schedule will offer ¨Better achievement for student success,¨ said Ernest Molina, Principal at Agua Fria High School.
The school year of 2018-2019 will have an entirely new class schedule. There will be six classes everyday, Monday through Friday. The specifics of the bell schedule have not yet been set in stone, but here are the general features.
There will be three days of Extended Opportunity Time (EOT), instead of the current one day per week. This class that will be able to help students in the subjects they are struggling in while the students who are succeeding will be able to have multiple days of enrichment classes. There will also be an additional day when Advisory will happen.
Much of the staff thinks that the new schedule for the school will be good for many of the teachers and students here at Agua Fria. They feel that it will be a success for the school because ¨It will be an easier schedule overall and there will be more school time offered to the students,¨ said Ms. Yapo, Vice Principal at Agua Fria.
More time will be offered to the students who have sports, clubs, and jobs after school that do not have much time to do their school work that is needed. They will be able to finish their work in the EOT classes that are offered and get help in bringing their grades up in the classes it is needed for. The EOT class will still be a 40-minute class where they are also able to make up and finish tests that need to be done.
With everything new that comes to the public eye there is always some kind of challenge that follows it at some point. The challenge that this schedule will face will be more on the teachers and how they will be planning their class periods since they will have shorter class periods next year than they have had this year. The challenge that the students will face, especially those who are juniors this year, will have a challenge with having only one late start day instead of two like we do now and like they have gotten use to for the past two years of their school journey.
While much of the staff is excited for the schedule change and how it will benefit students and teachers all together, many students are curious as to how it is going to play out. Leah Zinsmeister, a junior at Agua Fria, believes the new schedule will offer ¨more teachers having time in the mornings for one on one and the time for classes will be more organized.¨ She added, ¨The schedule will be better and not as confusing as it is now,¨ referring to the fact that students have to currently remember which classes to go to on Wednesdays and Thursdays.
There are many other students, like Leah, who believe the new schedule will be beneficial to the students success. ¨The new schedule will be good because there will be less work after school to do,¨ said Monica Peters, junior at Agua Fria. ¨Because there will be more time in class to catch up and have the teachers help.¨
While there are students who agree with the change, there are others who are a little more worried about the change.
¨Class work is easier to do now than it will be next year,¨ said Jose Trevino, sophomore at Agua Fria. ¨It is easier to do work done in our block periods on Wednesdays and Thursdays and it will not be that easy to do it with shortened schedules.¨
Even though students like this are against the change to the schedule because of class work they all agree that the memorization of the schedule will be easier than it was this year of 2017-2018.