Homophobia and Hip-Hop
By: Jesus De La Rosa
OwlFeed Journalist
Through the past couple of years, the acceptance of homosexuality has been one of many things being accepted that were previously thought as being taboo. This sudden shift has affected many aspects of modern life, including pop culture.
At the same time, rap and hip hop have become the biggest genre of music today, consuming almost all of popular media and influencing our culture immensely and it shows no signs of stopping. But homophobia has plagued hip-hop, and I'm not just talking about the use of the dreaded 'f -word', I'm talking about DMX or Offset in the recent "I don't vibe with no queers" controversy.
Rappers have been known for their hyper masculinity and their intolerance of different or feminine styles. Lately, this has been changing. The gay community has been getting a voice in hip hop and the strict masculine culture has been slowly dissolving.
The first break out of this I could remember was back in 2013 with Macklemore's hit song "Same Love". The song tells of the equality between straight people and homosexuals and it into the top 20 Billboard charts, something that is both triumphant yet surprising.
In the song, Macklemore exclaims "If I was gay, I would think hip-hop hates me." And he was right. Even now we see a wave of people slander artists, even if they're not gay, and use that word as an insult. From the unveiling of Young Thug's album artwork for 'Jeffery' (where he is seen in a dress) and Lil Uzi Vert's feminine outfits, people have been outraged and the idea of being at all unmasculine would seem ridiculous in hip-hop. But with these artist coming out and trying to break this mold, the future looks bright for the homosexual community in hip-hop. They've slowly been getting more representation, from the likes of Frank Ocean to Brockhampton, these artist are standing up for a new cultural change.
Brockhampton are a fairly new hip-hop collective, releasing their debut album last year, but they have offered a unique and refreshing atmosphere in the hip-hop scene. One major feature that makes Brockhampton stand out is there open embrace to homosexuality. Their founder and unofficial leader Kevin Abstract is openly gay, and although he isn't exactly using his platform for activsim, he does use his music and social media presence to try and make homosexuality a more common thing to talk about.
Although receiving criticism for always rapping about being gay, his verses are incredibly important. For once, someone popular in the hip-hop community is openly speaking about being queer, giving queer people a voice in such a big part of pop culture. While it's true that other artist have identified as queer, Brockhampton has been normalizing it and actively including it in their music.
With lyrics sometimes depicting sexual acts Kevin Abstract does with other men, people have gotten infuriated and uncomfortable. But why? As Kevin responded in a tweet, hip-hop culture praises these things when it comes to heterosexual relationships. That's a huge factor in all these current hit songs. Why is it so disgusting when a man says these things about another man?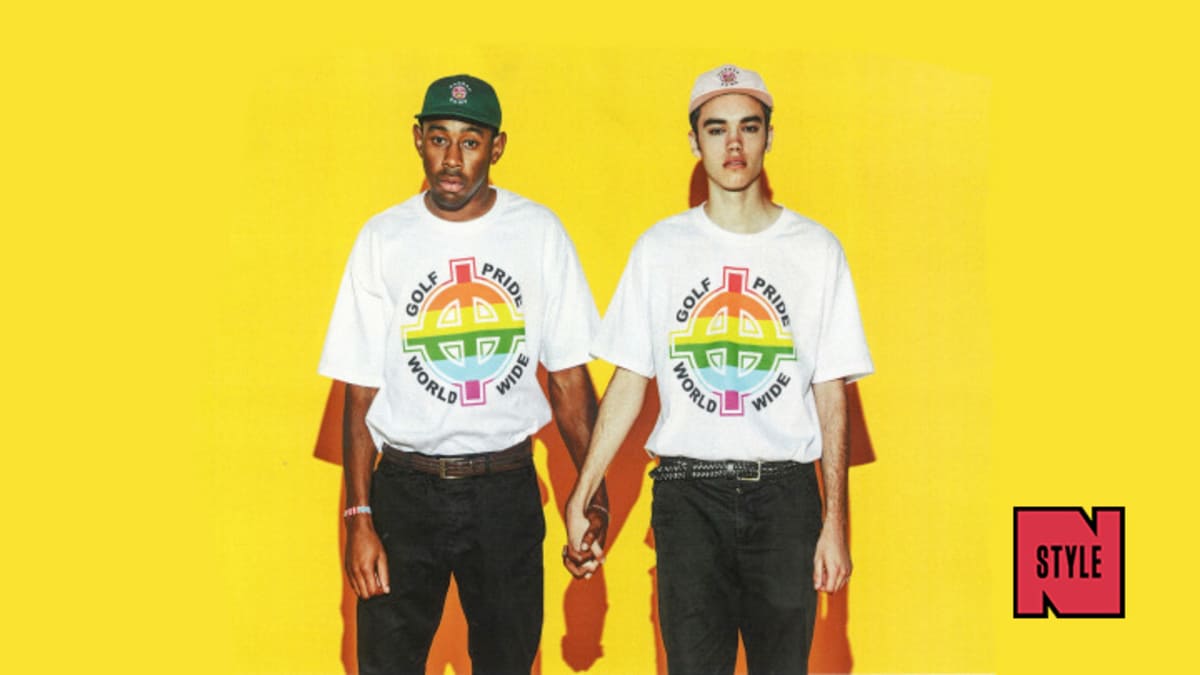 In hip-hop, and in life in general, the derogatory 'f-word' is almost always used in as a derogatory, insulting term. From Eminem to Tyler, The Creator, these artist have used these words but have gone on the record saying that they didn't mean it as an attack on the gay community, they were just words. Recently there has even been speculation that Tyler, The Creator is in fact gay, with art shared on his Instagram to track 7 on his album 'Flower Boy' being almost universally understood as his coming out song.
The only times the 'f-word' has been used in a somewhat positive manner is, again, with Brockhampton. And that's the important part of Frank Ocean, of Tyler, of Brockhampton and of non-conventional artists like Uzi. Representation is important and they're leading the way.