AFHS Demonstrators March With AZ Teachers During Historic RedForEd Protests
By: Clinton Barney
@OwlFeedCJ
All over Arizona, school districts modified or temporarily suspended their schedules due to the historic education reform movement that has just recently reached the desert. Through the last week of April and into the first week of May, in the first statewide strike in Arizona history, teachers from all over the desert, including some from Agua Fria, participated in a massive walkout and march on the State Capitol, calling for an increase in the state's education budget.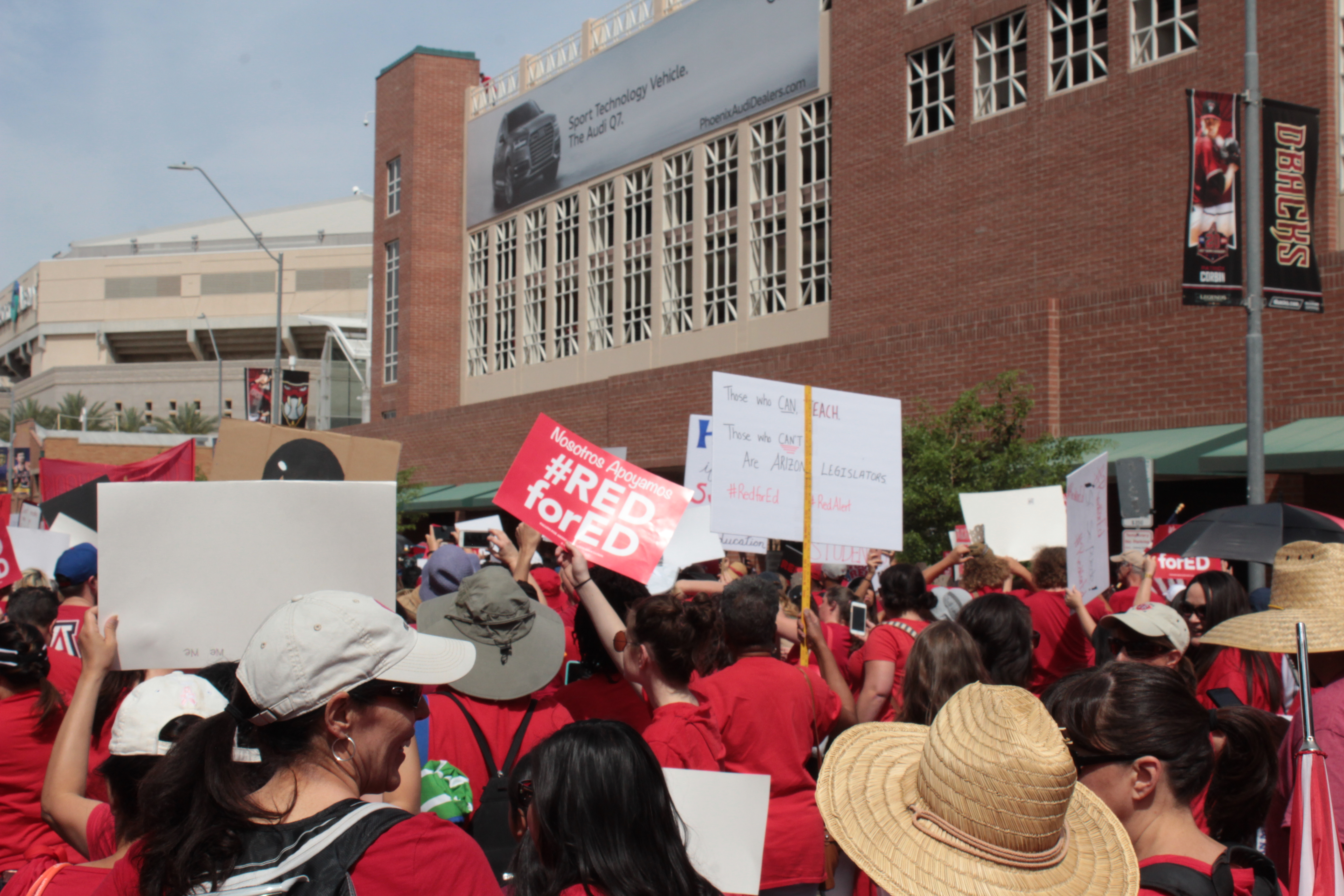 In late March, Governor Doug Ducey announced a plan to extend the education sales tax increase through 2058 that will result in an extra $667 million a year being brought to Arizona schools, known as Prop 301. This proposition continues a current addition to teachers' salaries, but it would not give the state's public schools or universities any extra funding. The marches in late April and early May were meant to spawn change for the funding of Arizona's education system.
According to Cronkite News, "The movement's organizers put out specific demands ahead of the walkout, including a 20-percent salary increase, restoration of education funding to 2008 levels, extension of salary increases to support staff, development of a permanent structure for annual raises and a freeze on future tax cuts until per-pupil funding matches the national average."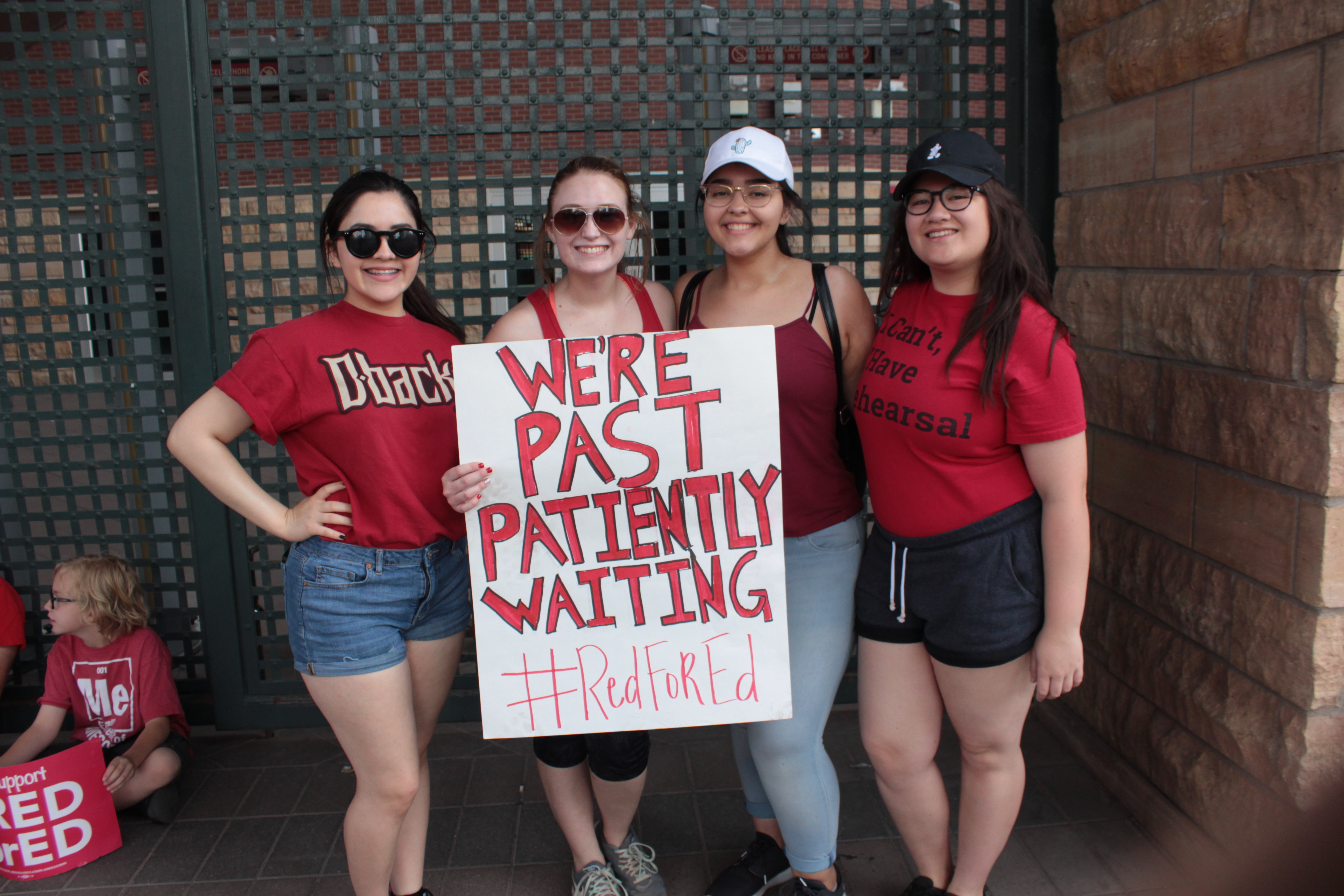 Agua Fria Union High School District was one of the several districts to have changed their schedule in the event of the walkout. Each day of protest was switched from a full day to a three hour half-day due to the lack of expected students and staff.
The first day of the march that took place on Thursday April 26 started at Chase Field in Downtown Phoenix and made its way to the front steps of the State Capitol two miles away. Agua Fria teachers and students alike made their way Downtown early Thursday morning in their red attire and walked alongside the 50,000 others in attendance with their signs held up high.
"I decided to go to the march because I see how hard the teachers on our campus work," said Alexis Nomorosa, senior at Agua Fria and one of the students involved in Thursday's historic event. "They go the extra mile for their students and it's not fair that they don't get the pay that they deserve."
She also mentioned her appearance at the march brought "so much joy" to Agua Fria's teachers.
"I don't think I can put into words the way it feels to see your students join you in a cause," said Ms. Johnson, English teacher at Agua Fria and one of the many Agua Fria teachers involved in the week-long walkout. "I felt relieved and lifted up. It made me so happy just to look at them. They knew we were doing this for them, and they knew it was a once-in-a-lifetime experience…I was proud of them, because they experienced discomfort to stand up for what they believe in."
Back in Avondale, the students that did go to school during the days of protest had not much to do and many remained in either the library or the auditorium for a majority of the day.
Jasmine Salinas, junior at Agua Fria, was at school during the second day of protest. "Three of my teachers weren't at school, so I was placed in the library." Students were expected to work on previous assignments or check Google Classroom for updates from missing teachers.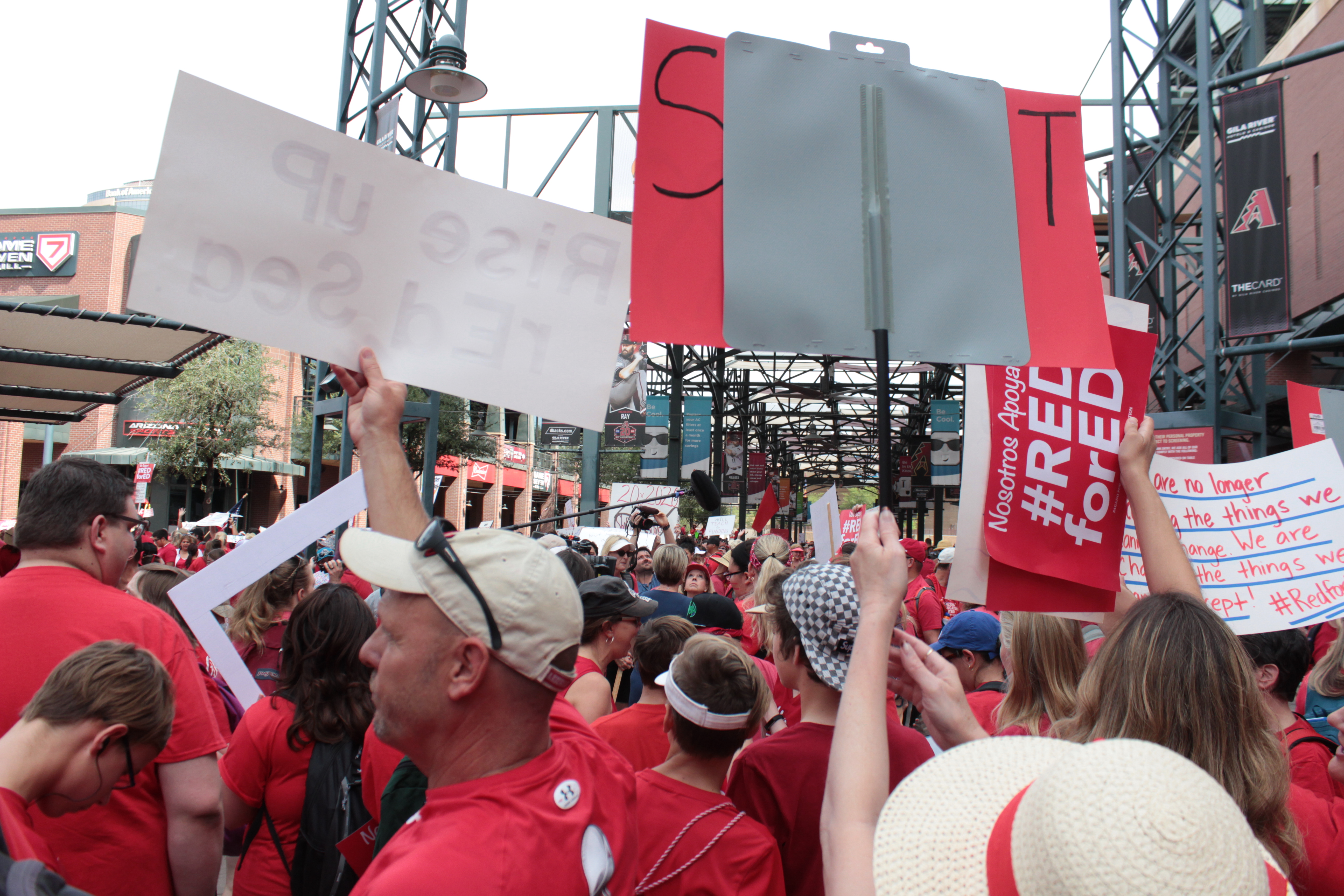 Mr. Gonzalez, Agua Fria's Theater Club sponsor and teacher, believes that the modified schedule was a "small price to pay" for the benefit of the future of Arizona's education budget and programs.
On the morning of May 3, Arizona legislators passed an improved budget bill that will include Ducey's "20 by 20" teacher pay raise plan that aims to increase teacher salary by 20% by 2020, a $371 million increase in education spending, $27 million in in-state university funding, $86 million fund for the construction of new schools, and more.
"I honestly believe that with the whole movement [is going to] cause more awareness of the fact of how awful the state funding has been for education," Mr. Gonzalez said. He thought that the walkouts have caused many "to understand and realize how poorly funded their school system is and how much their students deserve better."
Arizona Educators United have since called off the walkouts, causing the protests to die down and schools to return to a normal schedule.
"The bill is not enough," says Ms. Johnson, sharing the same feeling of displeasement as many other Arizona teachers. "It frustrates me that they were willing to part with less than they should have to our students and schools, but I'm still proud of what we got. The increases we saw have not been seen in our state in over 15 years. It's still way underfunded, and will need a lot more work, but it's overwhelmingly positive."