A Senior Goodbye From Antawn Salinas: Friendships Meant the Most
By: Antawn Salinas
Twitter: @Antawn_Salinas
Instagram: kickpuncherone
So, the end is here. For me and my fellow seniors at least. It's been an interesting four years. There is one thing, though. High school was waaaaaay better than middle school. I was kind of stuck with the same class of students throughout middle school, with a good chunk of them being jerks. Looking back at it, I was also kind of a jerk. High school was more fun, free, and inviting, even with the occasional stress and angst.
I wish I would have done more in my freshman and sophomore years. I didn't really get involved until later on. I joined journalism, which got me to open up and do new things, like the podcast. Other than that, there's not much else I would regret. There is one other thing that I do really regret, which was a situation that I placed myself in because I worried too much. I tried to do something that would have led to more fun times, but I handled it in the worst way possible.
I'm honestly not sure how I'll look back on high school. I met many cool people, built up my tastes in movies and music, and I've done some really cool things. But meanwhile, I wasted time thinking about mistakes I made, and I feel like these four years could have been better if I would have just done more. It's just something I need to work on.
I'm not going to college. At least not right away. I'm not sold if college will be right for me yet. I've got other ideas I'm working on. Those ideas involve writing and directing some short films with some friends.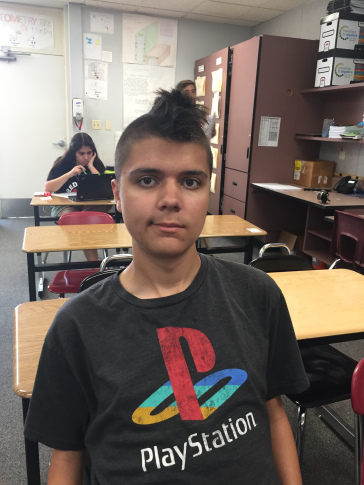 To me, what mattered most in high school wasn't grades, it was friendship (yeah, I know how cheesy that sounds). I want to thank people like Angel Acosta Martinez, Cristain Salazar Mendoza, Clinton (CJ) Barney, Gia Yates, Santos Garcia, Hope Laborin, as well as anyone that has been with me the past four years, and dealing with my BS. Most of my high school memories involve having fun/stupid conversations to meaningful and heartfelt moments.
Where the future takes me, I have know clue. I'll be going by the name "KickPuncherOne" online. Here's hoping what's good sticks, and I learn from the bad. Also, here's to more good movies and music.
My Top 5 Favorite Movies I Saw (In Theaters)While in High School:
Guardians of the Galaxy

Mad Max: Fury Road

Whiplash

Avengers: Infinity War
Logan
My Top 5 Favorite Albums I Heard/Discovered For the First Time While in High School:
Weezer – The White Album

The Black Keys – Brothers

Rage Against the Machine – The Battle of Los Angeles

Childish Gambino – Awaken, My Love

Gary Clark Jr. – The Story of Sonny Boy Slim
I wish luck to my fellow underclassmen, and thanks to the rest of class of 2018. Thanks to all of my teachers, and thanks to the people that joined me on my podcast for journalism. Also, thanks for my parents and my sisters for motivating me to keep on pushing myself. Here's to new beginnings.