Meet Alex Mascia
By: Jeslyn Larez
OwlFeed Journalist
Meet Alex Mascia, one of the many members in journalism.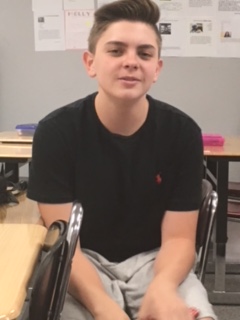 He loves journalism so much and had an amazing time last year that he came back this year. He is the sports editor which was the job he wanted to do. His interests in journalism are writing and editing.
Alex is also a sports loving peer who enjoys watching, and playing sports.      
He is on the AFHS wrestling team, which he has been participating in for two years. For Alex one of the many topics he likes is sports. Sports is the thing he could keep talking about and he would never get tired of it.
Alex has lived in Arizona his whole life and he soon wants to go to GCU or ASU. He hopes to become a nurse living close to his home.
His favorite things to do are hanging out with his friends, watching sports, and playing video games. His top two video games he loves playing are ''NBA2K" and "Fortnite."
I asked him if he had an all expenses paid trip, where would he go? He replied saying that he would like to go to Hawaii cause it would be an amazing place he could go to and not a lot of people get to enjoy the nice, luxurious experience of an expensive place.
Alex also has a liking for the tv show "Family Guy." He loves the entertaining performances. But most importantly his favorite character is Stewart Gilligan Griffin, or for short, Stewie. Alex loves Stewie's role and character and how he's funny and he doesn't really care about how anyone thinks of him and how people see his outlook on the world.
Additionally, his favorite movie is "SuperBad," which is about two inseparable friends who try to make the last two weeks of high school the best time of their life, until it takes an unexpected turn involving two cops.
And like most people, Alex's favorite food is pizza. He really loves pizza but not everything is about pizza. He also loves his two dogs Bella and Rocky who are playful and a handful but he doesn't mind because he adores them.
Furthermore, Alex has a soft spot in his heart for family. He especially admires his grandpa. One of his greatest moments was "visiting my grandpa in New York and going to Niagara Falls."   
All in all, Alex's passion for sports, family and all other things is really cool and if you see Alex Mascia in the halls of our school, stop by and say hi because he may look shy but once you get to know him he's pretty nice.