Cast of New School Play 'Fools' Revealed
By Elijah M. Carson
OwlFeed Journalist
A new production has finally been announced and casting is final on the new school play, Fools. Fools is a slapstick comedy production that tells the events of the intelligent Leon Tolchinsky as he goes through the town of Kulyenchikov and interacts with a town full of stupid people.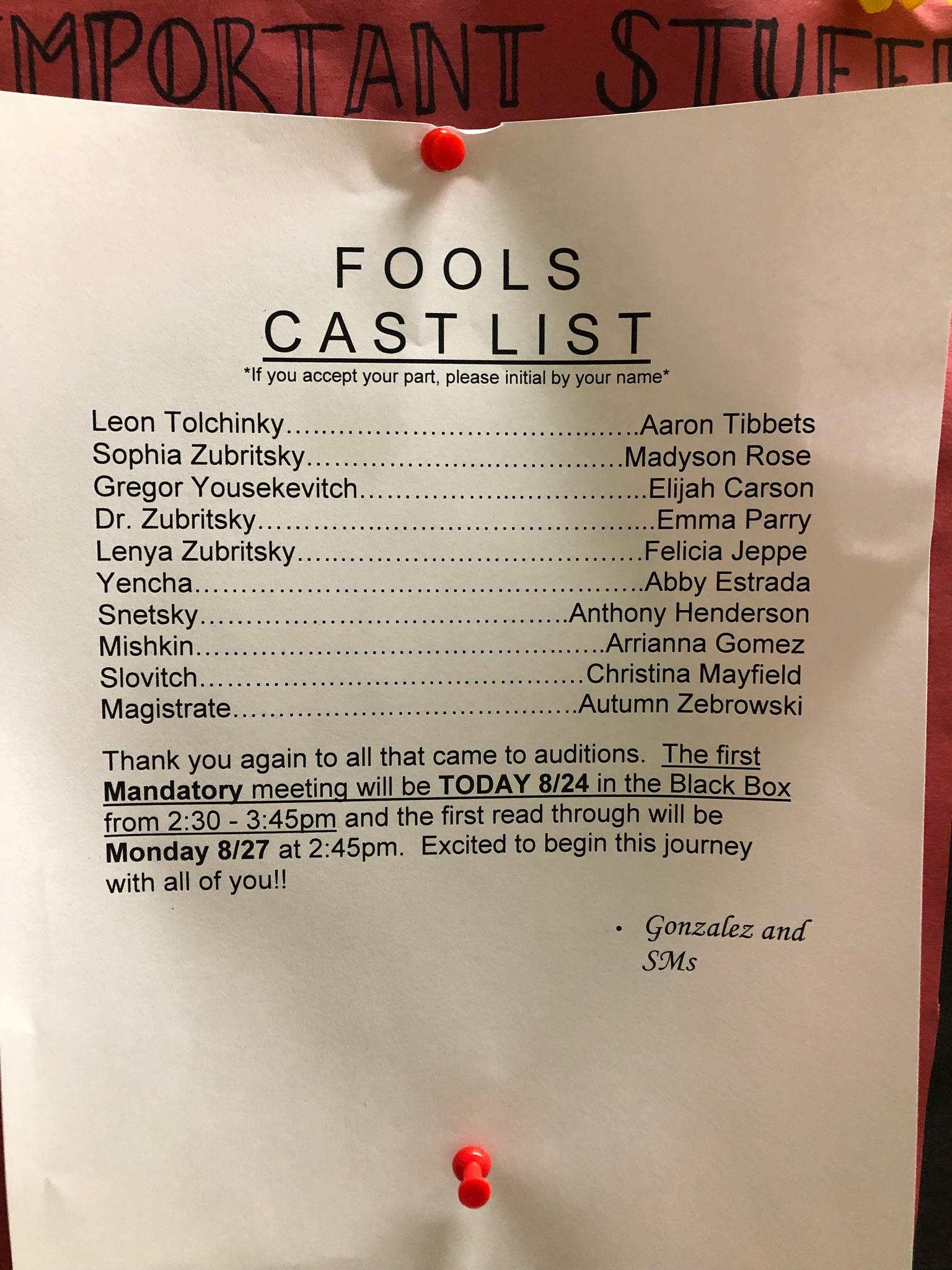 When interviewed on August 30th, Mr. Gonzalez said that he chose Fools for "a comedic challenge." He stated that they have done drama, though comedy is one of their major strengths. He wants the show to be over-the-top and make the serious-society happy and have fun because everyone needs a laugh and some dumb humor in their life.
Gonzalez also said that when choosing the cast, after many grueling hours of going through auditions and callbacks, he went by "who would do the absolute best for the part and would perform their 100%," because that's what the audience and play deserve.
On August 22 and 23 auditions were held for the play as Mr. Gonzalez, who has taken the reins once again, and stage managers, Alyssa Velasquez and Sophia Gonzales, decided who would be in the production.
On August 24, the cast list was posted in the Green Room as the lucky 10 people were announced. Aaron Tibbets was presented as the male lead, Leon. Ms. Madyson Rose will play the female lead, Sophia.
Other mentions include OwlFeed's very own Emma Parry and Elijah Carson, as well as Felicia Jeppe, Abby Estrada, Anthony Henderson, Arrianna Gomez, Christina Mayfield, and Autumn Zebrowski. This play will be sure to put a smile on your face.