Twenty Øne Pilots Trench Rollout
By: Carlos Johnson
OwlFeed Journalist
Twenty Øne Pilots is classified as an alternative hip hop band, created in 2009. It originally consisted of lead singer Tyler Joseph, Chris Salih, and Nick Thomas. Nick and Chris left, and introduced Tyler to current drummer, Josh Dun.
They immediately hit it off, and started on new music. They gained a lot of fame from their most recent album, Blurryface, in 2015, and made multiple top charts. In July 2017, they went silent. Until now.
July 2018, exactly one year after they went silent, Twenty Øne Pilots broke their hiatus, releasing information about their upcoming album, Trench, dates to their upcoming Bandito Tour, and two singles supporting the album, "Jumpsuit," and "Nico and the Niners".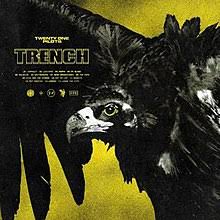 Fans were ecstatic; the duo broke a record on YouTube, receiving 5.4 million views on their single "Jumpsuit", within the first 24 hours of release. This broke their previous record by a landslide. Their previous record, held by their single "Heathens," received 3.5 million views on its first day.
The band is tirelessly working on the production of their new album, releasing two more singles: "Levitate," on August 8th, and "My Blood," on August 27th.
Upon the release of "Levitate," the duo also released the anticipated tracklist for the album. The planned songs on the album are:
Jumpsuit

Levitate

Morph

My Blood

Chlorine

Smithereens

Neon Gravestones

The Hype

Nico And The Niners

Cut My Lip

Bandito

Pet Cheetah

Legend

Leave The City
The first three songs released, "Jumpsuit", "Nico and the Niners", and "Levitate", respectively, became a music video series with a deep story around it. The story revolves around Clancy, played by the band's lead singer Tyler Joseph, trapped in DEMA (also known as "the tower of silence"), a metaphorical city controlled by nine bishops.
Clancy begins to dislike the restrictions DEMA enforces. He eventually gets fed up with the society, and creates a distraction in order to escape DEMA.
The plan is for Twenty Øne Pilots to release their album, Trench, on October 5th, and to start their Bandito Tour fifteen days later in Nashville, Tennessee. On November 9th, they will come here to Phoenix, Arizona, at Talking Stick Resort Arena. All of their shows in the United States are sold out. The anticipation for the album is huge, and is only going to escalate from here on out.