Kanye's Comeback?
By: Jesus De La Rosa
OwlFeed Lifestyle Editor
Summer 2018 belonged to Kanye West. After a string of controversies, the overall consensus was that Kanye was done. He seemed to have commited career and social suicide with his MAGA twitter comments and his slavery comments at TMZ. With the immense backlash, many thought his career had received a blow that he wouldn't be able to recover from.
Those skeptics ended up being wrong. Overseeing 5 projects, the G.O.O.D Music roll out dominated June. The hype all started when Kanye reactivated his Twitter early on in the year after about a year of inactivity, a gesture which fans quickly picked up as him getting ready to announce something.
Later, on April 19th, Ye casually announced his album and release date through Twitter. Then, in a shocking yet pleasant turn of events, Kanye announced his joint album with friend and fellow artist Kid Cudi, an album which has been hyped up and speculated about for years.
On June 1st Kanye's 8th studio album dropped. Though surprisingly short, ye topped the charts at 208,000 sales in the first week, making it Kanye's 8th consecutive #1, a feat only accomplished by Eminem and The Beatles.
There was wide speculation on what the sound of ye  would be, since he is infamous for switching up his sound on every project. Ye did not disappoint, keeping the trend going, feeling like a combination of many of his past styles while having a fresh sound of its own.
It was a solid album, one highlight being the closing song 'Violent Crimes,' which served as an open letter to his daughter, warning about the perils of growing up and the way men see woman.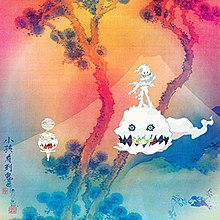 Another important song on the album was 'Ghost Town', as it featured Kid Cudi and teased their joint album, which came the next week in the form of Kids See Ghost.
On June 8th, Kanye and Kid Cudi released their highly anticipated album, Kids See Ghost. This collaborative effort has been rumored for years, and many thought it would never happen due to the public falling out between West and Cudi a couple years back.
The hype was due in part to the many songs they've done together in the past, which have all been stellar and stand out tracks in the albums they appear in. Starting with "Welcome To Heartbreak" off of Kanye's 808's and Heartbreak, through "Gorgeous" off My Beautiful Dark Twisted Fantasy, "Father Stretch My Hands, pt.1" off The LIfe Of Pablo and the priorly mentioned Ghost Town. When these two artists got together, they could do no wrong.
Kanye and Cudi bring out the best in each other, and Kids See Ghost is proof if anyone needs it. The album was an extravagant work, beautifully mixing psychedelic sounds with the sounds of each artist. They worked hand in hand together, both having their shining moments and never being able to outdo each other.
The album felt like a race between them, each trying to outdo the other and in turn pulling the very best from each artist. The title track Kids See Ghost finds Kanye rapping in a way we haven't heard in an album since My Beautiful Dark Twisted Fantasy, and it was such a pleasant surprise.