AZ Supreme Court Removes Invest in Ed Act from November Ballot
By: Angel Franco
Managing News Editor
On August 29, 2018, it was announced that the Arizona Supreme Court ruling of Prop. 207, which was supposed to put approximately $690 million back into education, was taken off of the November ballot. The measure would have raised taxes for individuals that earn more than $250,000 a year and for households earning more than $500,000 a year.
The budget for education has been dropping about one million dollars per year since 2008. Last May, educators, parents and various amounts of students started the Red for Ed movement which involved teacher walkouts and marches to the capitol, wearing red shirts and making speeches to the Arizona state government in an effort to change the November ballot by making their voice heard and trigger a movement that would positively affect the education system in the state.
Overall, approximately 150,000 teachers, students, and staff marched to the capital and demanded more for education.
The Governor of Arizona, Doug Ducey, had a plan to raise educators pay by 20% by the year 2020 but without the proposed tax it is unclear whether the governor's plan can be fully funded.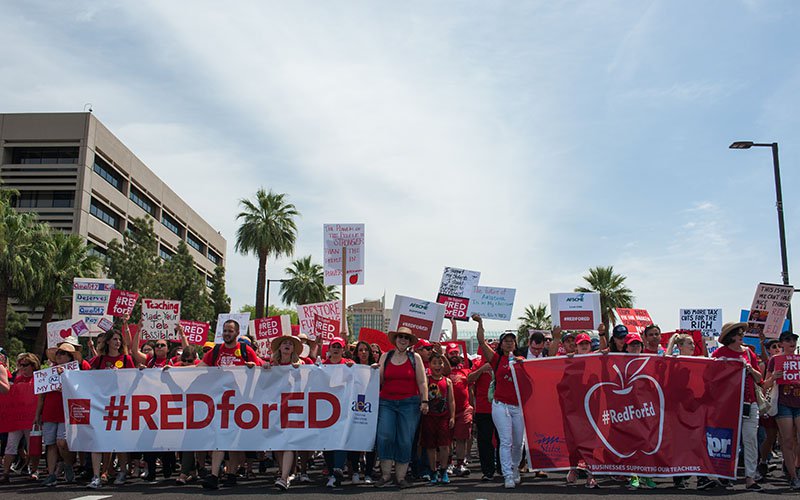 On August 30, 2018, teachers protested against the ruling of Prop 207 being thrown off the ballot by marching to the Arizona Supreme Court. The reason that it was taken off the ballot was because it was found as "misleading" and a "burden," according to the Arizona Supreme Court officials. Dozens of protesters marched to the capitol in disapproval and objection.
The 270,000 signatures that were collected in May are now being thrown out by the Arizona Supreme Court because the proposition was ruled as "unfair", saying it would "create confusion." Arizona Supreme Court officials also said that "the wording did not accurately represent the tax burden that would be faced by those making over $250,000 a year."
You can become part of the Invest in Ed Act movement which creates more funding for your schools and education purposes such as computers, textbooks and to fix school problems such as AC issues, building maintenance and teacher pay. You can make a difference, it just takes one person at a time to start a movement and to fix issues that we see going on today in our society.
Use #RedforEd to make your voice heard and state your opposition, in the meantime helping out many of your teachers and your school. We can create a better future for the next generation of students and teachers.