State Initiative Adds Teen Lifeline to Student IDs
Ulysses Altamirano
@aguafriahs
OwlFeed Journalist
Every day, the students at Agua Fria High School are reminded that they are not alone. During the summer, as AFHS students were registering for the new school year, many were amazed that the school has added the number of a teen crisis line to the back of ID cards. As students carry their ID card in their lanyard they are reminded that they are not alone and that there's hope.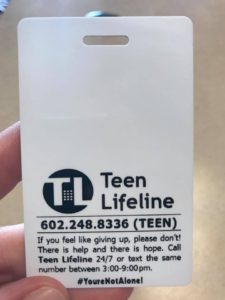 The teen crisis line number of Teen Lifeline has been added to high schools all over the Valley. This is part of their program that they call the AZ School ID Initiative, whose mission is to connect every AZ high school teen to help and hope. Students face many obstacles throughout their life, and this resource can be vital to students who face depressive and suicidal thoughts.
Teen Lifeline is based upon peer-to-peer counseling, so whenever students are inclined to call the line they will be connected with other peers around their age who will guide them and have been trained to provide them with resources that will help save their life.
There has been a huge amount of advocacy for suicide prevention. The entire week, from September 9th-15th, is recognized as National Suicide Prevention Week, and is sponsored by the American Association of Suicidology (AAS). This annual weeklong campaign within the United States is aimed at informing individuals about suicide prevention and the warning signs to recognize. They draw attention to the problem of suicide in the United States and try to reduce the stigma that comes with suicide.
Similarly, World Suicide Prevention Day is observed on September 10th by many organizations such as the International Association for Suicide Prevention (IASP), the World Health Organization (WHO), and the World Federation for Mental Health (WFMH) to combat the stigma around and bring awareness to the suicide epidemic in over 40 different countries.
Agua Fria High School has tackled the initiative to combat teenage suicide by adding the number of an AZ teen crisis center, Teen Lifeline, to the back of the student ID cards. All by simultaneously raising awareness on mental health and suicide prevention in the month of September we have raised awareness of issues many teens are facing every day. If you ever feel stressed or just need someone to talk to then call Teen Lifeline at (602) 248-8336 (TEEN).