AFHS Staff Are Here to Get You to College
By: Amanda Moreno
OwlFeed Journalist
Deciding on what or who you want to become when you graduate can be a very difficult decision. There are so many different careers to choose from. Luckily, being a senior at Agua Fria, there are many people who are willing to help you find your path, starting with Mrs. Mary Ciulei, the College and Career Specialist.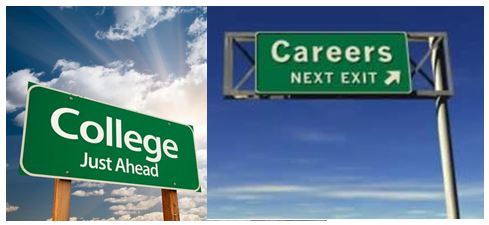 The main purpose of the College and Career Center is to help students to better prepare for their life after graduation. A student can get one on one help with researching colleges, finding the best college that fits them, and filling out financial aid and scholarship paperwork.
As a matter of fact, when it comes to helping students with college information, our school has various recruiters from colleges that visit our campus. Students have the ability to sign up in our Guidance Department to meet with these recruiters, to ask questions and gather information that will help them make important decisions as to where they may want to attend college. There are also lots of field trip opportunities throughout the school year that students are strongly encouraged to attend!   
Several times a month, Agua Fria proudly invites military partners to our campus where students who are interested in joining the armed forces are more than welcome to ask questions and consider going into one of the fields.  We have all branches of the military present on campus at different times, usually during both A and B lunches. Signups are not required for this either!
The College and Career Center is open during both lunches, after school or during class with a pass from the student's teacher. Parents are welcome to call at any time or schedule appointments to visit with Mrs. Ciulei.  
On the Agua Fria website, there are many links that lead to a variety of useful websites. A few of these would be: federal financial aid information, volunteer opportunities, available jobs, apprenticeship programs, scholarships, testing information, and U.S. Military Academy.
Agua Fria High School faculty is strongly involved in helping their students succeed. Teachers encourage and motivate their students, always more than happy to give one-on-one tutoring if needed! The Agua Fria staff is always eager to help with any kind of assistance students may need for their future.