OPINION: The Science of Why Music Today Is So Bad
By: Matthew Willarch
Owlfeed Opinion Journalist
The 90s were a long time ago. From "Rugrats" to "Adventure Time" and from great music to bad music.
Wait, what?
Yes it is true, music has gotten worse, much worse, starting from the early 2000s until now. I hear all of you yelling out, ¨That's subjective!¨ and yes, a lot of it is, but let me explain the science of why music today is so bad.
From the 60s all the way into the late 90s we've seen the golden age of music: artists like the Beatles, Elton John, Michael Jackson and Nirvana to artists like Justin Bieber, Lady Gaga, the Black Eyed Peas,and Nickelback. And it's not just a cultural shift. Sure things were different back then and people have put away their bellbottoms and shaved off their afros but music is more or less the same over all. People still sing and write about emotions, happy or sad, personal experiences and being in love so why is the way we interpret music nowadays so different?
Over 30+ years researchers have been studying trends in how music has evolved and in a study done by the Spanish National Research Council in 2012 came to the conclusion that music is, in fact, getting worse every single year. The researchers took 500,000 recordings from music across all genres from 1955-2010 and ran each song through a set of complex algorithms.These algorithms measured for three specific factors: hamonic complexity, timbral diversity, and loudness.
The results of the study shows that the timbre in songs have dropped drastically. Timbre is the texture and quality of song, its color if you will. They also discovered that timbre peaked in music in the 1960s and has dropped long since.
Songs have become increasingly lazy in their technique by relying on software and samplers. Contrarily, the Beatles single ¨A Day in the Life¨ used an orchestra of forty musicians, in a pop song. Meanwhile Robin Thicke's ¨Blurred lines¨ only used a drum machine to make the majority of its beat.
It would seem that most pop music only uses a keyboard, drum machine, sampler, and computer software. In comparison to music of the past where some musicians used entire orchestras to develop their music.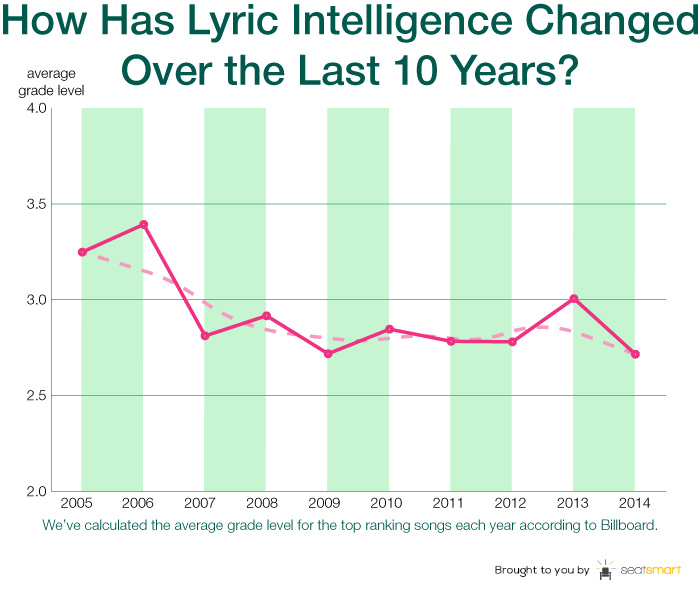 And if you think that maybe lyrics have been spared from this fate I'm afraid you're wrong there as well. In a similar study was the ¨lyric intelligence¨ of hundreds of billboard topping songs over the past ten years. Using different metrics such as the ¨Flesch Kincaid Readability Index,¨ which determines how difficult a piece of text is to understand, on a grade scale going from 1.0 to 4.0 it would seem lyrics have dropped in scale a full grade going from 3.5 at best to 2.5 at best. (Refer to the thumbnail for visual aid).
In a mind boggling turn of events, what if I told you that the vast majority of pop music today was written by only two people. What do Britney Spears, Robin Thicke, Jessie J, Justin Bieber, Katy Perry, Ariana Grande, Justin Timberlake, Maroon 5, Pink, Christina Aguilera, Kesha,the Backstreet Boys, N'Sync, and Will I Am have in common? The answer? The one who wrote their songs.
A good chunk of all of their songs were written by a Mr. Max Martin. This man is responsible for over 24 singles and thousands of songs in the top 100 charts in the past decade. He is responsible for songs such as "I Kissed a Girl and I Liked It," "Baby One More Time," "Since You've Been Gone," "California Girls, "Shake It Off" and hundreds more.
Over the past 20 years music producers have been engaged in what is called the ¨loudness war¨, the point of which is to produce music louder than the next guy in the hopes of getting more attention. This is possible through something called compression, or dynamic range compression, a process in which they boost the quietest part of a song so they can match the loudest part, reducing the distance between the loudest and quietest part.
Producers do this to help stand out in a market filled to the brim with songs that sound similar. However when abused, it usually reduces the quality of the overall song. The consensus is you can't make a song louder than it was when being recorded without reducing the quality of it.
But there is a very real reason why producers do this: avoiding risk. In the 1950-70s labels would receive demo tapes from artists every single week and sift through each one and the best were given contracts, nothing surprising there. Obviously if the public liked them they would gain traction.
This is what the main difference in music today is. People used to vote with their ears and mind as to which groups were the best, so everyone had to try much, much harder to stay relevant.
This, however, was a risky method where record labels would give thousands of dollars to the artists only to have them fail soon after, making them lose their investment.
Today promoting a new band is more expensive than ever before. The IFPI (The International Federation of the Phonographic Industry) estimates on average it would take at least half a million to three million dollars at most to try to promote an artist in same way they did in the 60s, so they remove risk by taking talent out of the equation.
Just take a good looking young person and force people to like them by ¨brainwashing.¨ Have you noticed how the ¨next big hit¨ seems to be playing everywhere you go, every radio, supermarkets, etc.? Well that is the record labels just making sure that you listen to and like these songs by making them inescapable and most of all recognizable by making sound exactly the same.
So my advice: make sure you know why you like something, because you never who is really making you like it.