Drugstore Makeup vs. High-End Makeup
By: Raeann Orona and Diana Vasquez Gonzalez
Owl Feed Journalists
Ever wonder who sells the best makeup? Is it drug store or expensive high-end makeup?
Everyone has their own preference with makeup. It had been stated in The New York Times that the best foundations is ¨L'Oréal True Match, Wet n Wild Photo Focus Foundation, and one of the best concealers is been the ¨NYX HD Photogenic Concealer.¨
PRICES:
Loreal (flammable foundation)-$12.99
Maybelline (Fit me)-$4.39
Wet n Wild (Photo Focus)-$4.68
Milani Foundation-$10.00
Fit me (Concealer)-$6.99
Maybelline concealer (Better Skin)-$8.99
L.A. Girl (Concealer)-$4.99
E.LF. (Concealer)-$3.oo
Covergirl Lashblast volume mascara-6.70
We went around asking our own Agua Fria campus asking people their daily makeup  Go-to's:
Isabelle:
Foundation-Loreal (Flammable)
Mascara-Sephora brand
Concealer-Maybelline(fit me)
Eyebrow-Anastasia dipbrow
Highlight-Fenty Beauty
Mia:
Foundation-Fit me (maybelline)
Massacre-Two faced
Concealer-L.A. girl concealer
Highlight-Becca
Anna:
Foundation-Maybelline foundation
Concealer-Nars
Highlight-Profusin
Eyebrow-Anastasia
Blush-Profusion
Bronzer-catvando
Eyeshadow-Peach Perfect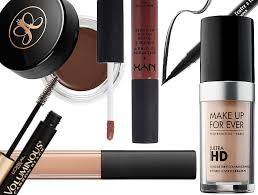 If drugstore makeup isn't really your thing try these high end go to´s . These are my top personal top 5 favorites!
Foundations- Fenty Beauty-$30, Bare Minerals $30, Becca Aqua luminous perfecting foundation $44, Dior $40, Too faced $33

Concealer – Nars $33, Tarte $26, Makeup Forever $34, Charlotte Tilbury $32, Sephora Collection $14

Eyeshadow Palettes- Anastasia Beverly Hills $42, Peach Palette $45, Huda Beauty $65, Urban Decay $49, Fenty Beauty $59

Highlight- Becca $19 to 38 shimmering skin perfector , Fenty Beauty $38 Diamond Bomb, Makeup forever $21, star lit powder, Hourglass $22 to 46 ambient, Anastasia Beverly Hills Sugar Glow Kit $40

Contour- Kat Von D shade + light face contour  $49, smashbox step by step $24-35, Tarte Park Ave Princess $45, Anastasia Contour Cream Kit $40, Trestique color and contour bronzer stick $28

Blush- Hourglass Ambient Lighting Blush $24-38, Tarte Amazonian Clay 12 hour blush $29, Jouer Cosmetics Blush Banquet Dual Blush $30, Charlotte Tilbury Cheek to Chic blush $40,

Bronzer- Benefit Cosmetics Hoola Matte Bronzer $16-30, Hourglass Ambient $24-50, Marc Jacobs Beauty O!Mega Bronzer Coconut Perfect Tan $49, Tarte Amazonian Clay Matte Waterproof bronzer $30, Milk makeup Matte Bronzer $24

Mascara-Too faced Better than sex $24, Benefit Cosmetics $25, Tarte gifted clay smart mascara $23, Lancome monsieur big mascara $25, It cosmetics superhero elastic stretch volumizing mascara $24