LeBron James Is Being More Than an Athlete
By: David Menendez
OwlFeed Journalist
When you hear the name LeBron James you'll think about basketball and how he is one of the  best basketball players ever. Some people would call him the greatest basketball player of this generation.
People who live in Akron, Ohio, experienced this up close. LeBron James opened the I Promise School that helps kids at risk with school and outside of school.
This school is different from normal public schools and helps kids in a very positive way. "The school will operate with a longer-than-normal school year, with a focus on accelerated learning to bring kids up to speed who otherwise might be lagging," according to SBNation. In addition, there's activities to prevent kids from getting bored and potentially getting in trouble.
LeBron also set up some great perks for the kids attending the school. It includes free uniforms, free breakfast, lunch and snack, free transportation within 2 miles, free bicycles and helmets, access to a food pantry for their family, and guaranteed tuition for all graduates to the university of Akron.
This can help kids and their families who might not be able to afford all of this. With the free tuition, kids don't have to worry about having to find a way to pay for college. Parents could also not be as fortunate to get food to feed their whole family, so the food pantry could be very helpful.
The school will open to third and fourth graders only but is looking to expand to kindergarten through 8th grade starting in the year 2022. When LeBron was asked why he decided to open up a school he said, "This is an opportunity to create change, for kids in general all they want to know is someone that cares and when they walk through that door I hope they know that someone cares.
LeBron has also gone out and said that he knows exactly what the kids in Akron are going through. He went through the exact same or even more when he was their age. He knows the emotions that they are going through.
This has to be the main reason why LeBron has decided to open up this school. Growing up he heard gunshots outside his house and saw drugs at an early age. He knows what it is like to not be as fortunate as others and living this lifestyle.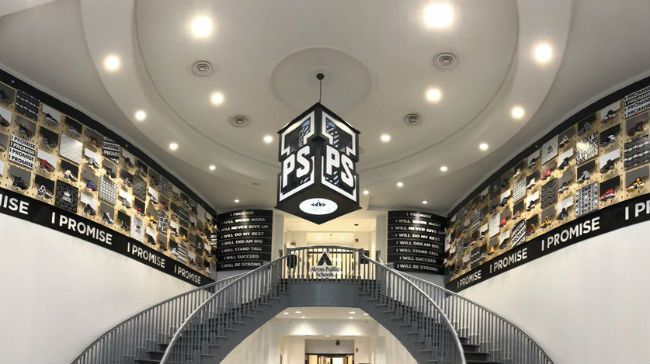 LeBron James opened up the I Promise School because not only was it one of his dreams to open up a school in his hometown of Akron, Ohio, but he wanted to help these kids to help them fulfill their dreams. "Why not help the next Barack Obama or Michelle Obama, help the next Sean Diddy Combs, you can help the next LeBron James, the next Serena Williams, the opportunities are endless for these kids," LeBron James said to Uninterrupted in an interview with them. LeBron had also said that the timing for this is bittersweet because he's opening a school in his hometown Akron, Ohio, but he won't be able to be there everyday because he is moving to Los Angeles to play for the Lakers.
Although LeBron struggled as a child, he now able to inspire kids not just on the court but also off the court and showing that he wants to help kids make their dream come true and become anything they want to be in life.