Sights and Sounds from Trump's Rally in Mesa
By: Ulysses Altamirano
OwlFeed News/Politics
President Donald Trump endorsed Arizona Senate nominee Martha McSally ahead of the midterm elections at his rally in Mesa. The news came after a debate was held with Senate nominees (D) Kyrsten Sinema and (R) Martha McSally.
McSally announced that President Donald Trump would be coming to Phoenix to hold a rally in support for her run to become Az's next senator to replace Jeff Flake, who announced his retirement and opened the race for a Republican seat in the Senate.
On Friday Oct. 19, a friend of mine and I arrive to line up for the event at 2:50 p.m. Considering the heavy flow of traffic there was just entering the Mesa International Air Response. By the time we were able to find parking for the event, it was 3:20 p.m. and we began to walk to the end of the line. There was a huge sea of red that was about 3 and a half miles long, all mostly because everyone was wearing the red "Make America Great Again" hats. We reach the end of the line and we wait.
It's 3:30 and doors begin to open for the event and people are being allowed in. The line seems to be moving very gradually. In the line, we hear people's comments in regards to the political environment in the country right now. Two middle-aged men in line behind us had much to say and made remarkable comments such as: "I raised my daughter to be better than a liberal" and "Liberals set us on course to bankruptcy and he will set us straight," as well as, "Democrats never follow through and the bureaucracy is very slow." And my favorite quote of all: "A man bun is a giveaway for a liberal."
I wasn't amazed to find out that this sea of red was overwhelmingly caucasian. However, I was stunned to see a couple of Asians who were speaking what seemed to me as Chinese in line wearing Trump merchandise. The middle-aged man behind us sees them and continues to make comments on how he supports Asians and how affirmative action works against them and that it's not necessary. It seemed as if my friend and I were the only individuals who were not in support for Trump.  
During the 2016 Presidential election, Democratic nominee Hillary Clinton mentioned that half of Donald Trump supporters are a " basket of deplorables". She referenced how half of them are homophobic, racist, sexist, and xenophobic. She later went on to apologize for her comments, however, surprisingly supporters at the rally embraced this political epithet.  
While waiting in line there was a lot of discussion among the "deplorables," about the upcoming midterm elections. There was an excessive amount of support for Republican Senate nominee Martha McSally. As individuals were engaging in their political dialogue, a middle-aged man with a mask began chanting while holding a sign that said "Orange man bad!" There was a huge wave of fury in the people in line and almost immediately everyone began yelling back at him.  
To classify most of these individuals in line, I would say they were middle-class families, who felt the federal government was brought to ruin during the Obama administration. It was almost as if Trump was trying to appeal the ordinary citizen of Middle America, and in a way, it seemed to have been working. This will prove to be an interesting midterm election as Democratic Senate nominee Kyrsten Sinema is not far off the polls as Martha McSally.
Two hours have passed and we reach the end of the line. We begin to enter and realized that we are not allowed in because they've reached max capacity. But fortunately for us, they had a jumbotron set up outside. We anxiously wait 30 minutes and then see three Marine One—Presidential—helicopters coming near us.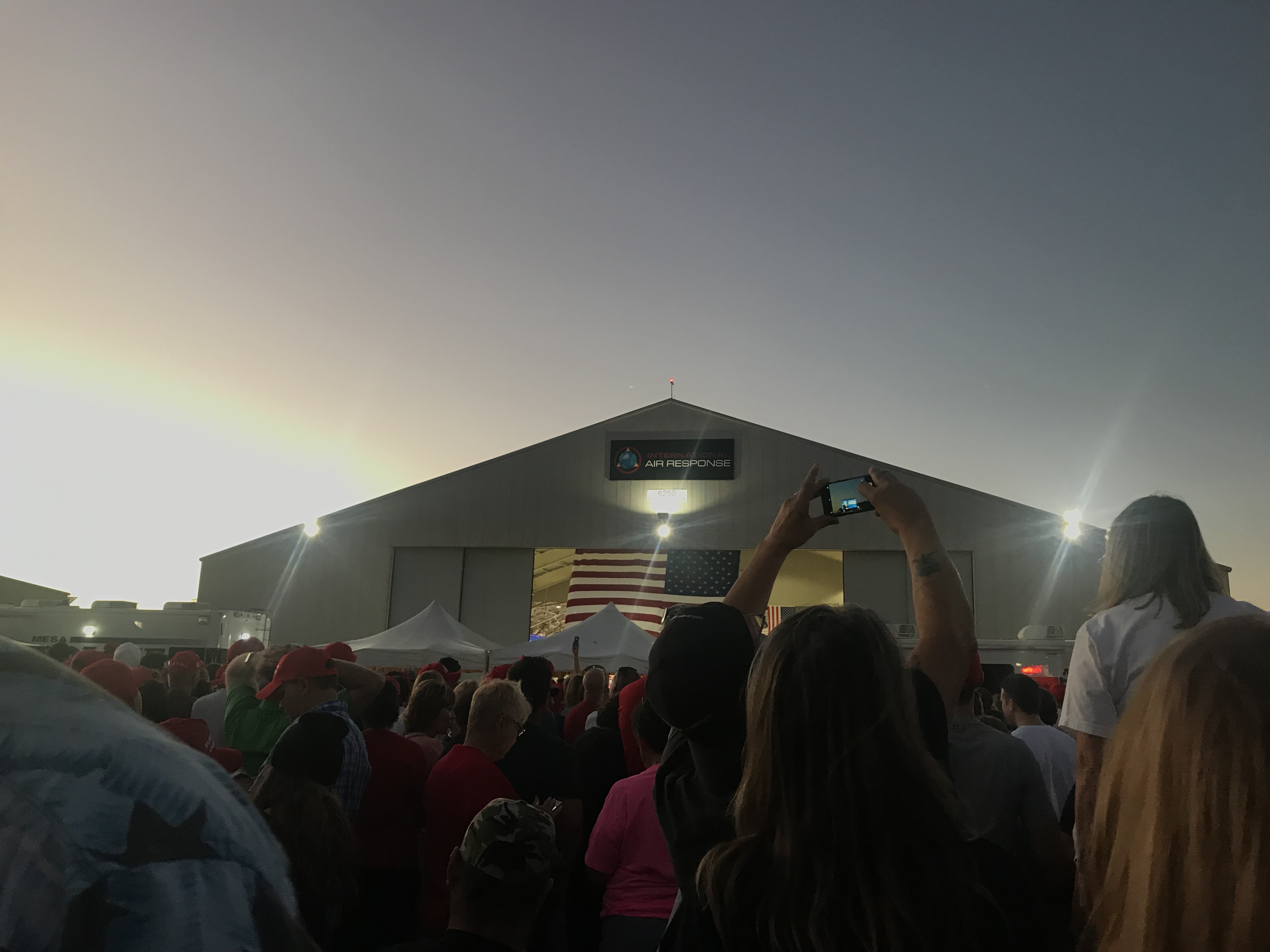 The "deplorables" are in awe with their jaws dropped to the floor.  They wave at the helicopter in great admiration, they scream for him. We see him get off the plane with the Secret Service and on he goes with his rally. He rambles on and mentions that appointing Brett Kavanaugh to the US Supreme Court is one of the most successful things he has done. He mentions that they are on progress to building the wall. He moves on to talk about Martha McSally and how she will be a good candidate for the Senate.
In essence, I would say that my Trump experience was one to remember. I constantly find myself in a very homogenous group, and going to a Trump rally made me realize that there are logical and illogical reasons why people support him and his ideologies.