By: Emma Parry
Owlfeed Journalist
Doctor Who, the beloved show of millions of space geeks everywhere, just celebrated its 55th anniversary, and 100th episode of the reboot this October. But with a controversial female Doctor, an all-new, highly diverse crew of companions, and a brand new lead writer and showrunner, what does this mean for the future of the show?
Jodie Whittaker, the newest iteration of the beloved British hero, is very different than her fellow actors in one major respect. She's the first woman to ever take the role. Critics, especially myself, were very cynical of this casting choice, as the former Broadchurch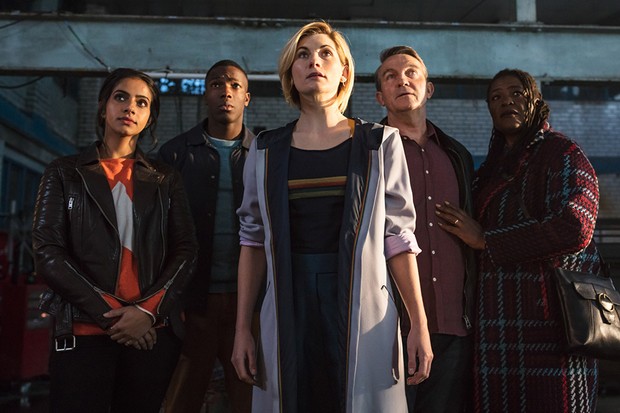 star seemed like a new, political take on a silly children's science-fiction show. However recent episodes seemingly have proven those critics wrong, as gender hasn't even been a focus for the past four episodes.
Lily Tahvildari, a senior here at AFHS said, "I expected the newest season to suck, to be honest… The show has been going downhill, with Moffat [the former showrunner], but I was surprised… The show is newly alive, newly regenerated into something I'm excited to be a fan of again."
Recent episodes have gotten even more people interested. Sunday, October 21st, gave us Rosa, an episode on Rosa Parks, her legacy, and her importance to the civil rights movement. Gabriel Martinez, a junior, has stated that the episode drew him into the show.
"It's a dumb show. I thought it was. I don't know but that episode was good, and it tackled racism in history accurately. With its disgusting systematic quietness… It didn't say, 'Oh this is bad.' You know the way some shows do? It already knew it was bad. It shows the privilege that the main character, who was white, had, and then… that her… [companions] wouldn't have had in the 1950's in Alabama. I just thought it was a really cool episode."
The companions this season have gotten the most critical acclaim yet. Yasmin Khan, played by British actress Mandip Gill. Yas is the first Muslim companion, who is a training member of the London Police. Gill has been in quite a few daytime British soap operas before her role on Doctor Who.  Joining her is Ryan Sinclair, played by Tosin Cole.
Ryan, much like his acting counterpart, suffers from dyspraxia, which is a developmental coordination disorder showing signs in children, but rarely changes into adulthood. Ryan is seen in Episode 1 struggling to ride a bike for the first time at 19 years old. Tosin Cole said he had always wanted a hero like him when he was growing up, so he hopes that Ryan can be that person for a child with dyspraxia.
One other huge change in the show is the new showrunner and lead writer, Chris Chibnall. Known across the world for his BAFTA-winning (British Academy of Television and Film Arts. A highly prestigious award. Think British Oscar) thriller crime-drama Broadchurch, Chibnall has written for Doctor Who in the past, as a secondary writer for Torchwood, the welsh spin-off. The episode was not the best, to put it lightly. Many feared the mild sexism within the episode, mixed with an all-new female Doctor would lead to an altogether unappealing Series 11. Despite previous scriptings, Series 11 seems to be the most open-minded of any season yet.