Is Cyber Monday More Popular Than Black Friday?
By: Lauren Mitchell
OwlFeed News Editor
Since the late 19th century, it has been known that the day after Thanksgiving is the unofficial start of Christmas season. The name Black Friday had not been associated with the day after until September 24, 1869. Since then, stores have sold their items at low prices in an attempt to push people to buy Christmas presents for their loved ones.
With the increasing use of online shopping, marketing companies created the term "Cyber Monday" to persuade people to shop online for sales. The term "Cyber Monday" was coined in late 2005 by Shop.org in their article titled, "'Cyber Monday' Quickly Becoming One of the Biggest Online Shopping Days of the Year."
Amazon is one of the huge online stores that largely advertises their Cyber Monday deals. Stores like Walmart, Best Buy, and Target, all have their usual Black Friday deals which spill onto their online stores on Cyber Monday. In the recent years, more and more people have been sitting at home buying into the sales, rather than going into the stores and attacking the shelves.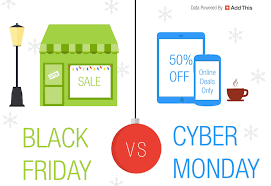 There are dozens of videos of Black Friday gone wrong, where people are trampled and in some cases death and major injuries have come from those killer deals. With Cyber Monday, people can stay in the safety of their home in pajamas and simply look at deals online. This is why the popularity of Cyber Monday has risen since you can buy things from the comfort of your home rather than wait in long lines to get in the store, go through the enormous crowds, and get back in a huge line to buy the things you scored.
"Cyber Monday allows me to shop from the comfort of my own home, as opposed to fighting the lines in stores on Black Friday," said Sydney Clark, a senior business administration major. "Over the last few years, Cyber Monday has grown in popularity so online sites have begun running deals that are comparable, if not better, than those on the previous Friday."
2015, according to NRF, was the first time that more people shopped online rather than in stores. This year is reported to have 40% of consumers saying they plan on doing most or all of their Christmas shopping online this year.
So is Cyber Monday more popular than Black Friday? A lot of people are sticking to the adrenaline of tackling others to get their sales, but over time it is estimated that Black Friday will become a thing of the past and most people will stick to Cyber Monday and getting their packages shipped to them.