By: Zianney Arellano
OwlFeed Journalist
Kyrsten Sinema, Arizona's first female Senator, was finally announced the elected winner on November 12th after a long and exhausting election against Republican candidate, Martha McSally. She is the first Democrat in an Arizonan Senate seat since the 1980s.
Sinema will not only be making history in Arizona—she is also the nation's first openly bisexual Senator.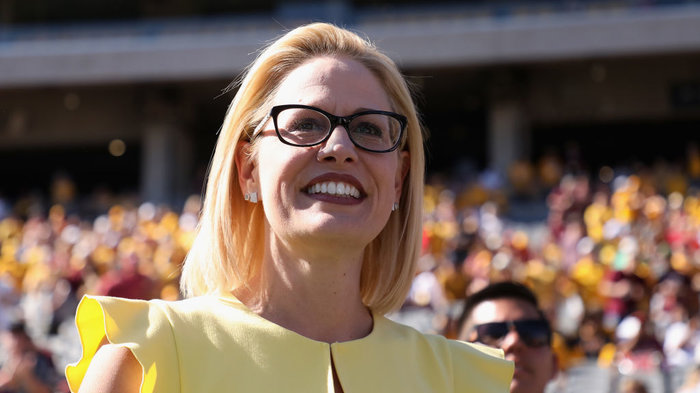 Sinema's campaign as a deemed "conservative Democrat" helped her win in Arizona's historically prominent Republican state.
She has drawn criticism from the Democratic party for voting with Trump and Republicans on a variety of different issues.  Sinema had even joined the Blue Dog Coalition, a caucus that was established in 1955 to give a unified voice to the more conservative, Democratic members of Congress.
Sinema has stated that her top priorities lie in access to quality healthcare, veterans' benefits, job growth, and national security. Her experiences in homelessness and poverty during her childhood have made education an important priority—it was the only route in which she was able to succeed as much as she has.
This campaign, for many reasons, has been one of the most significant in the nation. The race between the two intensified exponentially due to the heavy circulation of slandering ads.  Martha McSally was criticized for putting out ads claiming that Sinema supported a bill that encouraged child trafficking, as well as committing treason.
The article, "Are Nasty Campaign Ads on Their Way Out?" by Robert Robb calls out both Sinema and McSally for having had made this Senate race as offensive as it was. "Both candidates have demonstrated the ability to get things done in a political and legislative setting… There has been a bruising and disheartening campaign conducted between them. The state has been scorched with nasty attack ads. What if, instead, the candidates had actually engaged, reasonably fairly, on the issues, told voters what they wanted to accomplish if elected to the U.S. Senate?"
Despite her own parties frequent criticisms, Sinema describes herself as a bipartisan, and stresses that we must overlook our political associations and work collectively and patiently in order to work towards a better nation. "We can work with people who are different than us" she said in her Senate victory speech, "We can love and care about people who are different than us. We can keep people who are different than us safe. We can be good people who care deeply about each other even when we disagree."
Sinema will take office on January 3rd.