2018's Words of the Year
By: Lauren Mitchell
OwlFeed News Editor
If you had to describe 2018 with one word, what would it be? This word should reflect the mood or things that have happened in the past year and be known as a term of cultural significance. I know, it is a difficult question to answer, but the word experts at Collinsdictionary.com, OxfordDictionary.com, and dictionary.com each picked out their words and have explained why.
Oxford Dictionary's word of the year is "toxic," defined as poisonous and very bad, unpleasant, or harmful. According to Oxford Dictionary, there are many reasons behind them picking this word, one being it was a very common word used to describe the most talked about topics. Over the past year, there has been a 45% rise in the number of times the word has been looked up on oxforddictionaries.com.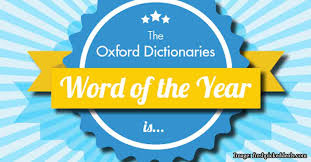 The word toxic has been used in reference to air pollution since it is a huge health concern for the public. In a report by the World Health Organization in October of 2018, they talked of quality of the air breathed by children worldwide, describing it as "toxic air." Another use of the word was used to describe an environment, such as the workplaces with major issues with sexual harassment.
The word continued to be used with toxic relationships, "whether its partners, parents, or even politicians, this year has seen so much discussion of 'poisonous' relationships," wrote OxfordDictionary.com. In all, toxic has been a word to describe the toxic culture of 2018 all around the world.
Dictionary.com, on the other hand, chose misinformation as their word of the year. Misinformation, according to dictionary.com, is defined as, "false information that is spread, regardless of whether there is intent to mislead." This word can easily be mixed up with disinformation which is the intent to spread wrong information.
Their reasoning is that misinformation has given more challenges in 2018, there has been an explosion of the use of the word. Misinformation goes hand in hand with Collins Dictionary's word of the year, fake-news. Misinformation has been around since the 1500s, but over the past decade, with the rise of social media there is less fact checking and easier spread of communication allowing misinformation to thrive in today's society.
Lastly, Collins Dictionary picked the word single-use, referring to something that was made to only be used once like plastic. With increasing public awareness of single-use items such as straws, bottles, and bags, people are becoming more mindful of what they use.
"Our records show a four-fold increase in usage of this word since 2013," said Collins Dictionary. "With news stories and the likes of the BBC's Blue Planet II raising public awareness of this environmental issue."
2018 has been a whirlwind of events and new discoveries, but has also had a huge increase in toxic culture, misinformation, and awareness of single-use items. What would be your word of the year?