No Mistakes, Just Happy Accidents with Bob Ross
By: Kyla Heller
OwlFeed Journalist
Known for his technique of wet-on-wet paintings, Bob Ross made an impact on the art community reaching millions of painters and aspiring artists with his television show "The Joy Of Painting" that gave step by step instructions of how to recreate his renditions of the beauties of nature.
Born in Florida and joining the U.S. Air Force after dropping out of school at grade nine, he was stationed in Anchorage, Alaska, where he took his first painting lesson. He used his technique of applying oil-based paintings on an already wet canvas to allow for quicker and easier to manage paintings. While he did not create the technique of wet-on-wet painting, he was a big advocate for it and repeated the technique and its purpose in every episode he aired.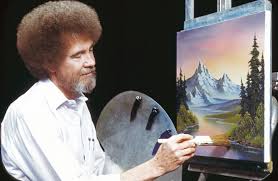 Bob Ross believed that anyone could be a painter so long as practice and consistency came from the artist. His soft spoken and informational episodes provide a relaxing space for watchers to paint along and learn all sorts of new techniques to create paintings that push the painters standards to the next level. He said things such as "We don't make mistakes, we make happy little accidents" and "The secret to doing anything is believing that you can do it. Anything that you believe you can do strong enough, you can do. Anything. As long as you believe"  (Goodreads).
Completing over 30,000 paintings in his lifetime, he also devoted his time to research and care of his atypical pet family. His bunch included pocket squirrels, owls, a raccoon, and many others. He had a gentle front and could not imagine inflicting harm or any ill will on anything around him from humans to all of nature's wonders.
Sadly, this pure soul was taken from us on July 4th, 1995 at age 52. He was diagnosed with lymphoma and quit airing his show so that he could focus on his health. In his lifetime he completed over 30,000 paintings, starred in his t.v. show, was employed by MTV for promotional spots, and "he expanded his activities into a multimillion-dollar business that included how-to books, a line of art supplies with his face on each tube of paint and courses in which instructors were trained in the Bob Ross method" (Archives).
His paintings and techniques continue to live on through his son who occasionally appeared on his show.