90's Sitcom Stars: Where are they Now?
By: Hayley Baker
OwlFeed Journalist
We all have our favorite shows from the '90s whether we were alive or not: Family Matters, Full House, Saved by the Bell, Boy Meets World, Friends, and so many more.
With those shows come our favorite characters from Cory Matthews to Joey Tribbiani and DJ Tanner to Kelly Kapowski. The stars who played these characters of course have moved on from their iconic days. Some have moved onto bigger better roles, while some have taken a spot in front of their tv instead of in it. Here is where some of your favorite '90s sitcom stars are now.
So no one told you life was gonna be this way? Friends was one of the most iconic, and probably best shows that came out of the '90s. The show aired from 1994-2004. What about life after?
Jennifer Aniston who played one of the leads Rachel Green continued her acting career having roles in many films such as Marley & Me, The Switch, Office Christmas Party, and We're the MIllers. To answer the burning question in everyone's minds, no she doesn't just do commercials for Aveeno skin care. The actress is now 49 and resides in LA

How you doin Matt Leblanc? This actor who played the handsome and comedic Joey Tribbiani took a break from tv after the show ended. This hiatus which he announced to only be one year turned into 5. He had a few roles here and there. Matt continues to stay off the big screen. He is now 51 and has a 14 year old daughter.
I'M SO EXCITED… to say that the Saved By The Bell cast is the next we will be talking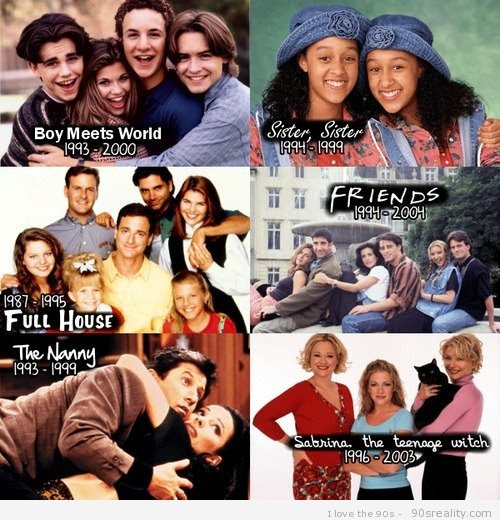 about. The show followed teens through high school. The show ran from 1989-1993 and had a total of 5 seasons.
Tiffani Thiessen who played Kelly Kapowski had quite a life after the show. After the final bell, Thiessen went onto another quite popular show that being Beverly Hills 90210. She was on the show till 1998. Thiessen continued to appear in many movies once her 90210 days were over. In 2005 she got married to Brady Smith and they now have 2 children. She now plays the role of Lori Mendoza in the Netflix Original Alexa & Katie.

Dustin Diamond aka Screech. Can't be saved by any bells here. After the show, Diamond stayed quiet for a while until recent years when he has made a few run-ins with the law. Starting in 2014 when he was found to have of a possession of a switchblade after a bar fight. The charges didn't stop, on May 29, 2015 he was found guilty of two misdemeanors. In June of that same year he was sentenced to 4 months in prison, he was released but unfortunately he was sent back for a parole violation.
As days go by we forget a little bit more about where the Family Matters cast is. The show started in 1989 and ended nearly a decade later in 1998. The show had a total of 9 seasons.
Did he do that??? Steve Urkel, probably one of the most iconic characters that came out of the 90's. The actor who played him is Jaleel White. After Family Matters, he had many tv shows though they all did not last very long. He is not married but he has a daughter named Samaya.
How rude would it be if I didn't mention one of my favorite shows growing up that being Full House. Full House showed the lives of the Tanners and their big crazy unique family. The show ran from 1987-1995.
Have mercy, the actor who played the Elvis loving, hair obsessed, rockstar was the one and only John Stamos. When the show ended, Stamos starred in the hospital drama ER from 2005-2009. He has been married twice. He currently has 1 son named Billy who was born in February of this year.

Candace Cameron known for the loving role of DJ Tanner. Cameron has been quite busy when the show ended. She got married soon after the show in 1996. After her children were born, she took a hiatus to focus on her family. In the 2000's she guest starred on That's So Raven. In 2009 she was cast in Make it or Break it as Summer Van Horne. She is also big on the Hallmark channel for being in many of their Christmas movies. In 2014 she was in Dancing with the Stars and finished in 3rd place. In 2015 she announced the the revival of her character DJ Tanner in the Netflix original Fuller House. She is now 42 years old.