Meet Kayla Robinson
By: Ayanna Warren
OwlFeed Reporter
Kayla Robinson is a junior here at Agua Fria. She is an opinion reporter who writes about national politics and top 10's. She is 16 years old and was born in Missouri, but moved to Arizona at three years old. She visits her hometown every now and then in the summer. Speaking of, summer is her favorite season. "I like the heat, I hate the cold," she said.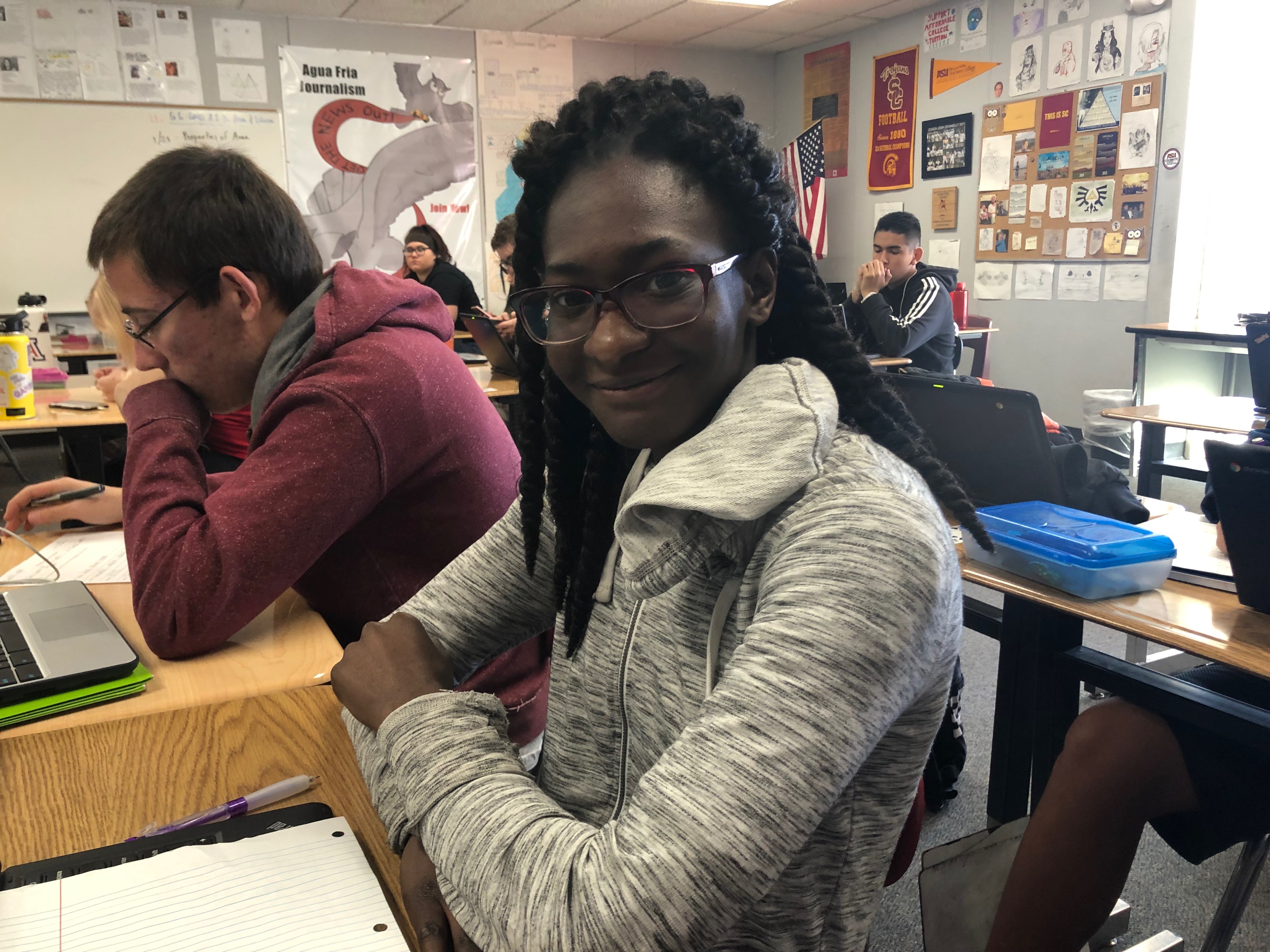 Kayla wasn't always an Agua Fria student, coming from a college preparatory school called AAEC in 10th grade. She's already decided which one is better, that being Agua Fria.
Kayla has a total of 5 siblings. She has 3 brothers and 2 sisters, of whom she is the youngest. Her siblings are grown up and live outside of the house so she doesn't get to see them often, but when she does, she has a good time. Kayla doesn't even have a pet to keep her company. "I used to have a dog named Harley," she said. "But we had to give him away when I was younger."
Kayla is an ambitious person. She's indecisive on which college she wants to go to after school, but she keeps Northern Arizona University (NAU) in mind. "I want to study oceanography," Kayla said of her future college career.  Also, her dream vacation is to go to Italy and with her job having to do with the study of the ocean, it's quite possible.
Kayla has some very cool hobbies that allow her to express herself. She loves to draw and  write, and she loves photography. "My favorite hobby is to write, especially short stories," said Kayla. But even though that's her favorite, drawing is a close second. Her favorite things to draw are people. "I think my favorite drawing I have is a ballerina."
"I like the movie Ant-man and the Wasp," said Kayla. "DareDevil is my favorite superhero." She is more of a Marvel fan than a DC comics fan. Also, she likes to listen to music but doesn't do it very often. "I don't have a specific song I like or a specific genre."
"History is too hard," which is why it is Kayla's least favorite subject, specifically AP US history, also known as APUSH. Her favorite subject is chemistry.
All in all, Kayla Robinson is a fun person to get to know and the Owl community is very lucky to have her part of Agua Fria.