'Hot Ones' Spices up the Classic Interview
By: Jaeden Andrade
OwlFeed Media Editor
Late night interviews have been a main staple in the television zeitgeist for decades. We have come to love them through shows with Jimmy Kimmel, Seth Meyers, James Corden, and even Eric Andre. However, every generation tries to spice up the interview in any way possible, some with lip syncing, games, and of course musical acts, but none of which have spiced it up more than the interview "Hot Ones."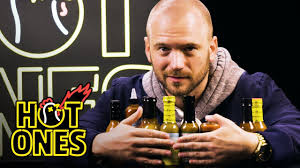 Hot Ones steps up the classic interview formula by simply adding hot wings, however they are getting progressively hotter with each wing. Which can maybe even make the interviews more honest since the guests are focused not on answers, but on surviving since the hottest sauce clocks in at over 2,000,000 on the scoville unit.
Though the guests are in pain from the ever growing hell that comes with each question, we as the audience are loving every single moment of the show. As the host Sean Evans puts it, "The show with hot questions and even hotter wings." This show comes from the Youtube channel 'First We Feast,' which also has certain shows like "The Burger Show" and "Sean in the Wild" which is apart of Complex, a well known culture-based media outlet.
This incredible show has brought us episodes with more than 100 different guests that include Post Malone, Gordon Ramsay, Michael B. Jordan, and more! With most episodes coming in between 20-30 minutes, this show is perfect for binging episodes that feature your favorite celebrities. Their catalog is so large that everyone is bound to find someone they like.
With a large catalog comes wild episodes that are filled with crazy moments and easy losses. One of which comes from the season one finale where DJ Khaled taps out after only 3/10 wings which has become a joke in the Hot Ones community. Another moment is when Chef Eddie Huang goes in reverse order and taps out after the hottest 2 wings. Rapper Coolio soaked his last wing in the hottest sauce and was reportedly knocked out in the HotOones green room afterwards.
This show has become so popular that it is not a rare occurrence for it to show up on the trending page on Youtube. In fact it is so popular that this hot sauce show has its own merchandise. It does have shirts which are… fire. But thankfully they do sell the hot sauces that are featured in the show which they made themselves.
Hot Ones is on its 8th season and is going strong with no end in sight so join in while the show is hot and the wings seem endless.