What's Trending on Netflix?
By: Michael Muniz
OwlFeed Journalist
In between the ending of 2018 and beginning of 2019, there has been tons of new movies released on Netflix and still many more to come. From Birdbox to Black Panther and the Avengers: Infinity War, there were many movies on Netflix that have millions of views.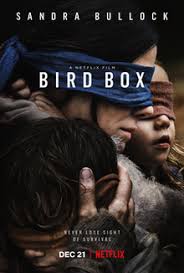 In 2018, the movie titled "Wind River" was the most watched on Netflix and was rated 7 out of 10 but it didn't go as big and didn't have as many fans who really loved the movie like Bird Box did, according to Netflix.com. There are many trending movies on Netflix that many people around the world are watching and that they still watch today.
While we await the next big, trending movies, there are hundreds of movies and shows that people watch daily. The movie titled "Bright" was popular for a little while around December 2017, it was still watched by many in January and February of 2018, and was rated 8 out of 10 on the Netflix website. The Jurassic Park series was added to Netflix and each movie of the beloved series liked by so many was binged.
Many ladies liked the movie called "The Kissing Booth" and was rated high with the scale of ten with an eight. It was mainly about how a girl finds herself face-to-face with her crush that she had been liking for a long time when she signs up to run a kissing booth at a carnival. Many girls said they can relate to how they liked someone and had to go face-to-face with them.
Many Disney movies were released on Netflix as well, these included what many people watched during their childhood and after they were released, the movies got close to millions of viewers. Some movies did have more than a million viewers and were trending for a little while after their release.
Movies such as Avengers: Infinity War which was 10/10 on the Netflix charts, Solo: a Star Wars Story was an 8/10, Ant Man and the Wasp was an 6/10 and Black Panther was another 10/10, all were hits on Netflix and were trending on the website after each of their releases. The cool thing is you can see this all on Netflix's website, all the ratings and trending movies.
Overall, Netflix has released so many trending movies, and we all know Netflix will keep on releasing movies that will go viral. Now, we all await for what Netflix releases next and see the movies go through the trending cycles.