Screen Time Brings Awareness of Enourmous Phone Usage
It is scary how much the newer generation is on their phone, but even then I would never have guessed how much we are really on our phones. There has always been apps that tell you how long you have been on your phone, but Apple has went a step further to allow easy access to your amount of screen time.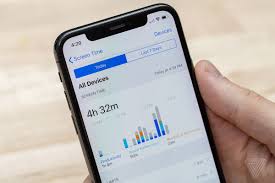 When the new iOS 12 came out, Apple added the new feature Screen Time in settings where, "you can access real-time reports about how much time you spend on your iPhone, iPad, or iPod touch, and set limits for what you want to manage."
Some of the limits are very useful for parents who have kids with iPhones; they can limit their child's iPhone with a passcode. For example, a parent can set a limit for their child to only be on YouTube for an hour a day, or they can set a few hours of the day to be "downtime" where no apps can be opened besides text messages and calls. But how is this useful for teens?
The app-limits and downtime may not be, but for some teens, knowing how much they spend on their phone brings awareness to their "phone addiction."
By asking around only 20 students at our school for their screen time, I was surprised with the results. With the highest amount of weekly hours being 67 hours a week, to the lowest amount of only 12 hours, these numbers are probably not even the worst/best ones. The average of these 20 students is about 33 hours a week. Which is about a day and a half spent on our phones… A WEEK! Around one-fifth of the week is spent on phones!
In the middle of the spectrum, Brooklyn Stutler with an average of 30 hours a week, said, "When I see my amount of screen hours, it makes me feel like there is so much time I'm wasting on my phone that can be used to actually get work done and be productive, it stresses me out."
It's not just her. Seeing your amount of screen time really is disappointing. You would never think we spend that much time on that little screen, but we do.
"I feel pretty great with my screen time," Angel Cruz proudly said with the lowest amount of hours out of the people I interviewed. "I 100% believe that I could go without my phone for 24 hours…  But quite frankly, I don't think I would give up my phone."
That is where we struggle as a society. Our phones are so useful these days that it is impossible to not have a phone. With effortless communication, easy access to knowledge, and people's online presence on social media, it is like our phone is glued to our hand.
Out of the 20 people I interviewed, seven of them said their most used app was Youtube with an average of 13 hours a week, seven said Snapchat was theirs with 10 hours a week, three said their highest app was Instagram with 11 hours a week, and the other three had miscellaneous apps.
For Alanna Patterson, a junior, Snapchat is her most used app and she said she could go without her phone for a day "if I didn't have my streak, but I'd be worried about it all day." Teens, adults, and children all have different amounts of time on their screen and things they use their phones for, Screen Time can be used by all of them.
So is Screen Time useful or not? It has allowed teens to see their huge phone usage, but will they change their habits?