The JoBros Make a Comeback
By: Kyla Heller
OwlFeed Journalist
The boy band The Jonas Brothers made a surprising comeback on February 28th as the previously separated group banded back together to write and release another song.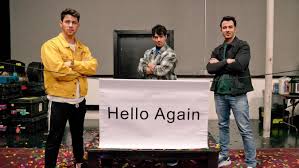 The band got together in 2005 making and releasing their first hollywood record. After that in 2008 all three brothers starred in the Disney Channel original movies Camp Rock and it's  sequel Camp Rock 2: The Final Jam.
They began their own show on Disney Channel titled Jonas that was renamed after it's first season on air and then cancelled after the second season. They continued to make music and released for albums in total between 2006 and 2009.
In 2013 the band announced their official break up with Nick Jonas stating that he initiated the break up because, "I feel like we've had some complications within the group for a long time without addressing them."
After that, the band split and began to work on their own careers in music and TV.
Joe Jonas, formerly the lead singer of the Jonas Brothers, started with another band called DNCE where he along with his band members released an album that made top 20 on the Billboard Music charts.
Nick Jonas continued on as a solo artist writing and recording two albums after the band split up officially. His music was very popular among the younger audiences. He was seen acting in quite a few moviespost split such as Jumanji: Into The Jungle and Night at the Museum. He recently married Priyanka Chopra, another American actress in 2018.
The final member Kevin Jonas did not make a comeback in the music or acting industry like his brothers had. He led a quiet life and got married in 2009 and had two daughters.
The bang recently got back together and stated in an interview on People.com that they had been in therapy "to work through some issues that originally caused the band to go their separate ways — and spent a year "doing therapy" to get back on the same page."
On March 1, the band surprised fans with the release of a new song six years after being apart called "Sucker" that reached the number 28 spot on the Billboard charts.
Currently we do not know if they will continue to make music but the nostalgia that came along with listening to them work as a group again was like a time machine back into the good old Disney Channel days.