Meet The Cast/Crew At Owl T.V.
By: Jesse Laurita
OwlFeed Journalist
Most people at Agua Fria know about Owl T.V. and what it is as it is commonly aired and played throughout classrooms around the school. The class that films and produces this is called Film And T.V. Production II which is the second level of Film And T.V. Production I.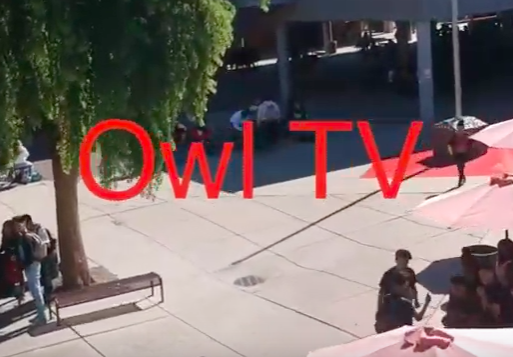 Two classes make this and take turns rotating their films in and out. Although they do similar things they are much different the one that plays the most is called ReOwlity T.V. because why not. This will guide you through all of the roles people in our class take to make your daily/weekly/monthly films available.
Let's start at the top of the food chain with Mr. Brumbaugh or as our class personally knows him Mr. Clean. Mr. Brumbaugh is responsible for overseeing the entire class and managing the film and production that goes on. Right after him, Mr. Tozzi slides in as a Co-ed teacher/Assistant Teacher. Everyone loves him just as much as Brumbaugh for his kind and respectful ways towards all of the students.
Our ReOwlity T.V. wouldn't be possible without many of the people in there such as Bryce Nobles, Jillian Moses, Megan Wood, Joshua Silvia Ambriz, Anna Lucas, Landon Budoff, Korey Larson, Desiree Farkas and many more. These Owl T.V. members are in charge of Editing, Recording, Music Production, Pre-Production, and so much more.
Megan, Jillian, and Bryce are a team that is unbreakable who go above and beyond to get the proper recordings they need for a great quality film. Joshua is in charge of making music for the videos and creating some very sweet beats. Landon is in charge of relaying things to the interviewee or news reporter of the class by using a teleprompter. Korey, Desiree, and Anna are in charge of creating awesome edits and contribute a huge role to our Owl T.V. which wouldn't be possible without any of these people.
Some Owl T.V. members compete in filming competitions and usually win. Students Wesley Davis and Jesse Pacheco qualified for state in Television and Video Production as well as Korey Larson and Andrea Barrios making 6th in digital cinema, Adrian Corona Balderrama, and Xavier Vega Santana got 2nd in Audio and Radio,and last but least Isaiah Elder, Megan Wood, Desiree Farkas, and Anna Lucas Got 1st in Broadcast Technology.
I got an interview with Megan Wood and she was asked the following questions. How long have you been in Owl T.V. her response was an extraordinary 3 years.What is your role in Owl T.V. and she replied with "I'm usually behind the scenes but I occasionally have a news anchor position.Why did you decide to join Owl T.V. she replied that she joined Owl T.V. to learn more about filming as she has always had an interest.She was asked if she would take Owl T.V. again and her response was a definite yes.The last question I asked her was if she wanted a career in film and her response was maybe I don't know if the opportunity pops up then yes.
So if you see any of our Owl T.V. members around the campus make sure to say hello and congratulate them on their hard work on Owl T.V.
A link to Owl T.V.'s YouTube page can be found here.