Bryce Harper's Big Move to Philly
By: Armando Castro Jr
OwlFeed Journalist
On March 1st, 2019, Bryce Harper from the Washington Nationals made the biggest decision of his life to move to a new team in the same division as the Washington Nationals. Harper signed with the Philadelphia Phillies.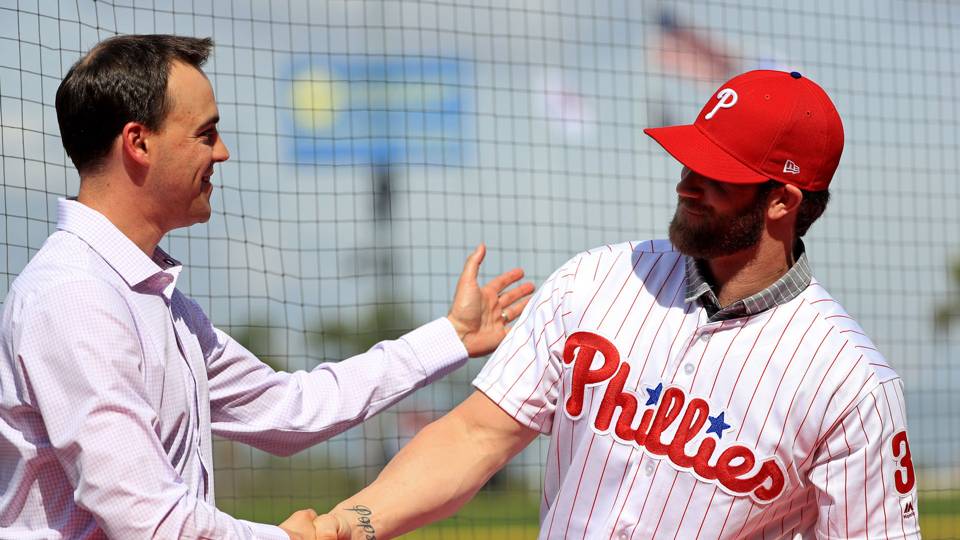 Bryce Harper became a free agent in 2018 and was his last year with the Washington Nationals after 7 years of playing with the team that drafted him in the 2010 MLB draft. Bryce Harper is the 2nd youngest free agent to sign with a different team and there were many teams who Bryce Harper could sign with.
The top team that wanted to sign Bryce Harper in the 2019-20 season were the Arizona Diamondbacks, L.A. Dodgers and Philadelphia Phillies, they had eyes on Harper when he hit the free agency market back in 2018.  
Bryce Harper was looking forward to be a part of the Arizona Diamondbacks because his family lives in Las Vegas, Nevada. Bryce Harper was born there and went to school there so he wanted to be closer to home, but he had other teams that gave him a better deal if he played with them. Bryce Harper ended up not wanting to play with Arizona Diamondbacks and tried to see if there was a better place to play and for his family to live at.
The Los Angeles Dodgers were very interested in Bryce Harper and wanted to bring a star that won the homerun derby and former MVP winner to the team. Earlier, the Dodgers lost Yasiel Puig, their starting right fielder, because he was tired of losing back to back world series that the team could of won twice. He decided to go sign with a different team that would end up winning the championships.  
The L.A. Dodgers were interested in Bryce Harper, however they did not make him a deal, then they decided to not sign the six-time all star as it was past the August 31st deadline.  
The Philadelphia Phillies were one of the top teams interested in Bryce Harper and the Phillies fans were ready to see what the General Manager, Matt Klentak, was going to do.  On March 1st, 2019, Klental and Harper agreed on a $330 million contract for 13 years with the Phillies.
The Phillies first signed Andrew McCutchen from free agency, J.T Realmuto from Miami Marlins and Jean Segura from the Seattle Mariners. The Philadelphia Phillies upgraded their bullpen by signing David Robertson, Pitcher, from the New York Yankees.
Agua Fria High School baseball players have many opinions on the Bryce Harper signing. "I am not surprised that Bryce Harper sign with the Phillies," Raymundo Heredias said. "He is worth $330 million because of the numbers he has put up and how he is a good player around the league."
Bryce Harper will be one to look out for and will hopefully make this season for the Phillies an exciting one.