OPINION: Yes, I'm Still Going to Listen to MJ
By: Ayanna Warren
OwlFeed Journalist
Everyone knows who Michael Jackson is; he's a legend in the music industry, specifically the genre of pop. His other name, in fact, is the "King of Pop." Recently, the TV channel HBO came out with a documentary about him titled "Leaving Neverland."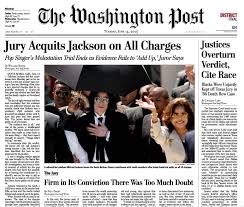 "Leaving Netherland" is centered on two men, Wade Robson and Jimmy Safechuck, who claim that Michael Jackson sexually abused them when they were as young as the age of 7. Many people have commented about it on both sides. I understand that this is a personal issue. However, we shouldn't just ban his music altogether.
To start off, MJ is a pure-hearted guy. In one interview, he said, "I've helped many children, thousands of children: cancer kids, leukemia kids." It just doesn't seem to fit that a person who did so much for children in need could be guilty of these accusations.
Helping the children isn't the only thing he did to prove himself selfless. He's performed to raise money for Africa, donated tickets to unprivileged kids, established the Heal The World Foundation which gives money for airlifting 6 tons of supplies to Sarajevo, and he raised money for "Michael Jackson United Negro College Fund Endowed Scholarship Fund," which is splitting $1.5 million to each individual student majoring in performance art and communications.
If that doesn't prove a guy with great intentions and wants to see the community united, I don't know what does.
"Of course, why not?" MJ answered when asked if he still thought it was acceptable to share his bedroom with children. "If you're gonna be a pedophile, if you're going to be Jack the Ripper, if you're going to be a murderer, it's not a good idea," Jackson said. "That's how I was raised. I didn't sleep in the bed with the child, even if I did it's okay. I slept on the floor."
That may still sound weird to some people but this was how Michael Jackson thought. He came from a house of 10 siblings so it was only natural to him to share his bed.
Also, MJ was already proven innocent before.
In 2005, Michael Jackson was in trial for the allegations from 1993 of child sexual abuse already and was found not guilty. The first charge he's ever had was from Evan Chandler, father of Jordan Neil "Jordie" Chandler, who claimed that Jackson molested his son. The mother of Jordie was named June Wong.
Chandler worked in dentistry and was a writer, although he never really did enjoy his dentist work. He mainly wanted to keep it as a backup career because being a writer wasn't working out too well for him.
Evan Chandler wrote numerous scripts but never had much attention to them; meaning he wasn't making much money off of them.
Also, he made many mistakes as a dentist. There's been times where he's been sued; meaning he's losing money. On top of that, him and his wife, June Wong, got divorced and he needed to pay $500 a month for child support. All of this losing money is gonna give Evan Chandler a motive to make some kind of money someway.
After meeting Michael Jackson, Evan Chandler encouraged his relationship with his son which is odd because he "hadn't shown all that much interest in the boy." says "Was Michael Jackson Framed? The Defining 1994 GQ Article by Mary A. Fischer That Sets The Record Straight on the 1993 Allegations."
After encouraging MJ and his son to continue hanging out with each other, he accused Jackson of having sexual misconduct when he's never physically seen them doing anything suspicious even though they stayed in the same house.
Evan Chandler didn't back down on the accusations about Michael and was even taped while admitting that he didn't care for what happened to his son.
"… [H]e will not believe what is going to happen to him, beyond his worst nightmares," said Evan Chandler recorded on a tape. "If I go through with this I win big time… I will get everything I want."
If all 17 charges were innocent, how can I believe that 2 guys, Wade Robson and Jimmy Safechuck, who came out of nowhere, are telling the truth. Especially if they aren't getting paid for the documentary.
"Leaving Neverland" brought back the bad attention on Michael Jackson, someone who's already passed. His family will never get over his death, and on top of that, they'll never forget all the allegations that have been put on his name when he's not here to defend himself.