AFHS Football is Converted to Two-Hand Touch
By: Carlos Johnson
The Most Credible Sports Writer… Ever
It is more than safe to say that Agua Fria High School's football team has had many ups and downs. From local stud Everson Griffen, who is now a Minnesota Viking, to winning only one game in the 2017-18 season, the whole team decided that change needed to happen.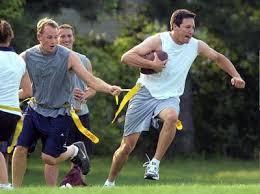 Flash forwarding to last season, many of Agua Fria High School students and alumni, (including me) were very nervous when they saw Agua Fria play Tolleson High School. The game was close at first, but unfortunately slipped; oh, and who can forget about that dust storm that happened near the end of the game?!
The next few games filled everyone with excitement as Agua Fria won back to back games, and finished the season going 5-5, which is glorious compared to recent years. Not to mention that we also won our HOMECOMING game! This is the first time that the Class of 2020 has witnessed this event.
After seeing so much improvement, all of the sporting staff asked themselves a question; "How can we improve the football team even more?"
After brainstorming over the entire offseason, the entire staff has come to a conclusion to make Agua Fria High School win every game they will play. That is right folks! Get ready for your Agua Fria High School Varsity Football Team have decided to convert ALL tackling to 'two- hand touch.'
"It is time for a change," said Joshua Jovanelly, freshman football coach. "This change may sound shocking at first, but this will ensure a winning season this next season."
"Changing tackling schemes will decrease the injuries to other teams," said Andrew Haubenstricker, Cross Country and Track and Field coach. "This will push the Agua Fria Team past their limits, and increase their motivation to win games."
If our Varsity team can go 5-5 WHILE tackling, who knows how far they can go with two touch – who knows, maybe they can go to Internationals!
"If we lose one single game, I am going to lose my marbles," said Kyle Shanahan, San Francisco 49ers head coach. "I might convert my team's tackling to two-touch; this is a no brainer!"
Bleacher Report has classified this rule change in their latest report, Why are you Still Reading This. "This is the most innovative change that we have ever seen," said Bleacher Report.
Rumor has it that the Agua Fria Peewee Football coach got their inspiration for the rule changed based off of the new rule change in the NFL's rule change on Pass Interference, where head coaches can now challenge the play if they think that the ref's made a bad call.
With crazy changes like this, who knows what kind of changes will be made in the football industry in these next years. We hope you are ready to see some feisty football gameplay this next Fall Season, as the Agua Fria Varsity Owls take on New York Giant's Practice Squad.
APRIL FOOLS!