'Once Upon a Time in Hollywood' Trailer
By: Jaeden Andrade
OwlFeed Media Editor
Quentin Tarantino, the mastermind behind cult classics like Kill Bill, Pulp Fiction, and Django Unchained, is finally coming out with a brand new movie which takes through a ride into the '60s and even the Manson family murders.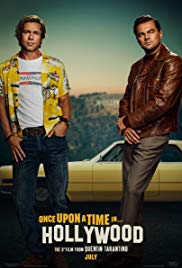 The brand new trailer for Quentin Tarantino's next film 'Once Upon a Time in Hollywood' just dropped. The film has a star studded cast of Leonardo Dicaprio, Brad Pitt, and Margot Robbie. The concept is in 1960's Los Angeles a movie star and his stunt double are trying to reclaim success in a changing Hollywood climate while the Manson murders are all happening in the background.
The movie will dive into the Manson family murders as Margot robbie is playing Sharon Tate. As a huge Quentin Tarantino fan I'm looking forward to seeing Tarantino's take on the Manson Family especially Charles Manson and obviously the murders. Another element from the '60s that Tarantino is using is Bruce Lee, world renowned martial artist who has starred in countless movies, and according to the trailer has hands that "are registered as lethal weapons."  Whether he turns out to be a pivotal part or a small cameo I'm excited to see what he will bring to this film.
Leonardo Dicaprio and Brad Pitt have been in Tarantino movies before, leonardo Dicaprio has been 2012's Django Unchained which also starred Jamie Foxx, Brad Pitt starred in 2009's Inglorious Bastards. Margot Robbie has shared screen time with the Oscar winning Leonardo before in Martin Scorsese's 'The Wolf of Wall Street' and Pitt shared time with Leo in Scorsese's 'The Audition'. These actors have worked together before so the chemistry in 'Once Upon a Time in Hollywood' should feel as natural as it could possibly be.
Take a look at this, as Forbes describes it, "groovy teaser trailer".
The new film is set to release in a couple months in July of this year and as a film fan I'm excited to see what Tarantino and the actors are going to pull off. Could it even get Leonardo another Oscar?