Cirque Du Soleil's Amaluna Finishes Phoenix Tour
By: Lauren Mitchell
OwlFeed Editor-in-Chief
With amazing acts of unicycles, girls on aerial straps swinging towards you, gymnasts jumping from one uneven bar to the next, and even men on teeterboards shooting towards the ceiling — these acts aren't unusual to the famous Cirque Du Soleil performers. These difficult acts go on in over 100 different Cirque shows with quirky storylines that bring the audience into the story.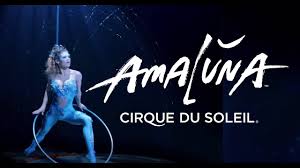 Living in Phoenix, Arizona, it is impossible to not see the huge blue and yellow tents by the Cardinals Stadium, and if you are wondering what the heck they are, it is Cirque Du Soleil with their new show, Amaluna.
Sadly, the show ended in Arizona on April 14th as the tour continues in Los Angeles and Ohio, but even though it is gone, I totally recommend going to see it in Vegas or seeing any other Cirque show.
The storyline circles around women in society. As the show begins, you are introduced to the mysterious island governed by Goddesses and guided by the moon cycles. The queen, Prospera, "directs her daughter's coming-of-age ceremony in a rite that honors femininity, renewal, rebirth, and balance which marks the passing of these insights and values from one generation to the next," described the Cirque Du Soleil website.
After a huge storm caused by Prospera, a group of young men washes up on the island. From there, Prospera's daughter and a young brave suitor begin an epic, emotional love story. Their love will be tested with trials and setbacks before they get mutual trust, faith, and harmony.
Along with the storyline are acrobatic stunts and edge-of-your-seat acts. I couldn't tear my eyes away from what was in front of me, above me, or to the side, because no matter where you look something is happening.
Not only are you getting all this, but you are also getting LIVE MUSIC!!! As a live band goes on stage while all this is happening and plays, the show is fulfilling in all aspects.
Fun fact: one of the guys who do the teeterboard, as they jump over 20 feet in the air and land perfectly on their feet, was the stunt double for Wonder Woman and trained Gal Gadot. As a former competitive gymnast, Sebastian Zaniesienko worked as a stuntman on three films before joining Cirque.
Out of 423 reviews on Yelp, Amaluna got a 4-star review. One reviewer said, "The show was full of so many amazing feats of strength, acrobatics, balancing, trust, acting all accompanied with amazing costumes, makeup, and music."
A lot of people felt, however, that this show compared to other Cirque shows, this one was definitely not the best. "Myself and my Mum have seen several Cirque Du Soleil shows, including Totem and Quidam. Amaluna was not the same, it was a true let down," said one reviewer.
As a person who has seen multiple Cirque shows like Love about the Beatles, Kooza, and Zarkana, Amaluna was not the best I have seen, but it is really good. Personally, entertainment wise I would give it an 8/10, but Cirque standard wise, I would give a 5/10.
If you ever happen to be in Vegas or Cirque comes back to Arizona in the future, make sure to get tickets to Amaluna or any other show, it will definitely be worth the money!