Shazam Is a Hit For DC
By: Michael Muniz
OwlFeed Journalist
Since the newest DC universe movie "Shazam" hit theaters three weeks ago, it has been a big hit and has made millions of dollars. Many people around the world have seen the movie and loved the comedy and how the movie was bright instead of dark like the other DC and Warner Bros movies.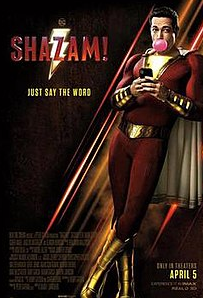 The movie centers around a 14-year-old boy named Billy Batson, and how when he shouts "Shazam" he turns into an adult superhero. With his superpowers, one of them being able to use electricity, he fights villains. When the first Shazam trailer was released, people were not as interested, but later, when Warner Bros released the next trailer, a lot more people were wanting to watch it when it was released.
Shazam got a rating of 9 out of 10 on Rotten Tomatoes. Also in the box office, it made $11 million on its first weekend and $25 million on its second weekend, overall the movie made $164 million dollars overseas.
The movie has been released all around the world and fans are loving it as more and more go to the theaters to watch it. A man named David in an interview had said that after he watched the movie with his kids "it was worth paying for because me and my family enjoyed it so much." A married couple with the names of "Jacob" and "Melissa" had also said that "We like how It's about a teenage kid that is the superhero because he dont have teenage superheroes and my kids can enjoy the movie as well."
The movie Shazam has also become a hit in the DC Universe movies and in the Warner Bros movies as it ties up with "Aquaman" and "Wonder Woman" for being the best movie. Warner Bros has made the most money with those movies and they like that the fans enjoyed them a lot as well.
Rotten Tomatoes is usually known for giving bad scores to a lot of movies and a man named Jake that kind of works there said: "It was a great movie and I hope we don't give it a bad score." Many kids had also enjoyed the movie and one kid named Daniel said, "They have to make a sequel of Shazam it was awesome!"
The directors and producers of Warner Bros have said that there might be a sequel to the first one. The DC Universe and Warner Bros are planning for a sequel and many more movies and we will see which next big movies hit theaters.