Senior Goodbye: From Nervous Wreck to Life In Check
By: Hayley Baker
OwlFeed Journalist           
It was nearly 2 years ago that I walked through the gates of Agua Fria for the first time. I had my stepbrother and his friends all by my side to help me get through my first day. My first thought was, "Okay this seems like a normal high school." Little did I know my life was going to be anything but normal for the next 2 years.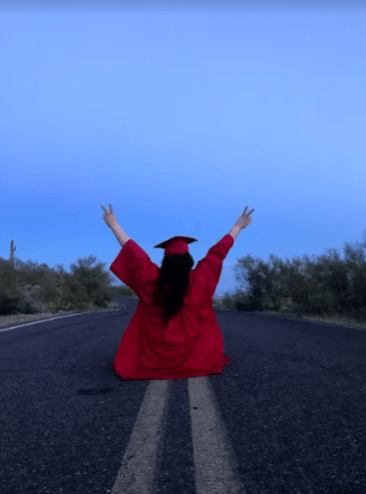 My first week could be accurately summed up as me sitting alone at lunch, sitting in the back of the class and not answering questions, and walking through the hallways with my head down. I dreaded going to school. It seemed like because I was coming in mid-high school that everyone already found their group and I wasn't going to find mine.
But that all changed in the second week when a kid with a heavy binder came and threw his binder down on the desk and said, "Hello, have you heard about North Korea?" and that was the start of one of the most important and amazing friendships I have ever had.
In my second period the rest of the year we spent talking politics and current events all while getting Ms. Secor off topic and just a little annoyed. We sat together at lunch all the time in Miller's class, where I met some more amazing people in my life including but not limiting Nat, Aaron, Zianney, and Alyssa. In the hands of great people, I began to flourish.
Then one random Wednesday something happened. We were in Advisory and were looking at a slideshow for clubs at school and travel club appeared on the screen for a second. In my head I thought, "I should do that," so I emailed Ms. Johnson as soon as I could introducing myself and how I wanted to learn more about Travel Club.
She sent me a link and immediately I was hooked. I had a part-time job and somehow managed to pull together enough hours to pay for a $3,300 trip in just 5 months. I didn't know a single person who was going but I knew it was something I really wanted, so I went and my life changed for a second time that school year.
The first day of the trip when we were in Italy, we had the option to tour the city of Como or to take a short ride up a mountain to Brunate. I, of course, went up the mountain with a girl Amanda and another girl who I didn't know but I would later find out her name was Mikayla.
That first day the three of us hung out and it seemed like I had found my group for the trip. On the long bus ride to the hotel, our teacher told Amanda and me that she was going to be putting us in a room with a girl named Jade and a girl named Adriana. In my head I was like "new friend okay great" and I was right.
The rest of the trip Mikayla, Amanda, Adriana, Jade, and her twin Sage were inseparable. Little did I know that these people were going to become my best friends for the rest of my time here at AFHS. The only question is why did I have to travel halfway around the world to meet my best friends?
Now as a senior I look back on my first year here and realize how far I had come since. I was shy, I didn't speak unless spoken to, and I never showed anyone my true self. Now I could not be any more of an opposite. I'm not afraid to embarrass myself and look dumb on certain occasions because that's all part of high school. I go to school activities and dress up for spirit week, I get down at dances and can be a star in the classroom. I can say that I have truly made this place my home and couldn't ask for better people to have been part of my life.
A special thanks to some teachers who allowed me to flourish in their classrooms and who could play the role of friend, parent and guidance counselor at any given time.
Ms. Miller, thank you for letting me come into your classroom every morning either to vent on my stressful days, sit there in silence on my tired ones and joke around on my happy ones. You and your classroom have always been a place that I could go when I didn't know what to do. Thank you for everything, I will truly miss you.
Ms. Secor, thank you for providing the class where I was able to meet my best friend and realize my dream. Thank you for not giving up on me at all during the year even though I may not have been the best student. Thank you for letting me vent about work and friends and everything in between.
Ms. Johnson, thank you for taking me to Europe twice and providing the club where I realized how much I loved to travel. Thank you for being the funny yet serious teacher that everyone loves and can relate to. Thank you for your Twitter and the Tweets that keep me up laughing all night. Also, thank you for Switzy, he's just a stuffed owl but he has so many memories I will never forget.
Mr. Jovanelly, thank you for being the best journalism teacher in the whole history of journalism teachers. Thank you for letting me vent and cry in your class when I needed to. Thank you for filling in for my parents at senior night when they couldn't make it. Your class has allowed me to become close with so many people and improve on some life skills I struggled with.
AFHS, my time here may have been short but this place will always be like a home to me, I'll miss you all.