OPINION: We NEED to Stop the Amazon Fires
By: Carlos Johnson
OwlFeed Editor-In-Chief
Imagine if the Amazon Rainforest, arguably considered the lungs of the earth, didn't exist. 2.6 million square miles of the forest would not exist. This is about forty percent of South America.
This horrid imagination is slowly turning into a doomed reality. The Amazon Rainforest is slowly burning at a constant pace, which is soon to leave the vibrant life of the Amazon to a dull, flat land of dirt. About 20 percent of the forest has already been deforested within the last 40 years.
What is worse to think about is the fact that this recent fire wasn't anything caused naturally. In fact, this fire was man-made and intentional! According to earthsky.org,  Brazil's president, Jair Bolsonaro, is intentionally clearing the Amazon in order to turn all of the waterways in this forest into electric generators. 
Although Bolsonaro reasons that he is trying to generate energy, this is not the greatest way to produce energy at all. The negative consequences will quickly add up and easily overpower the intended ideas. 
According to Pro Atlas, by burning down all these trees, we are getting rid of a whopping 390 billion trees. When decomposed, these trees will release about 90-140 billion metric tons of carbon dioxide into the air. This is five times as much carbon dioxide that is created worldwide annually.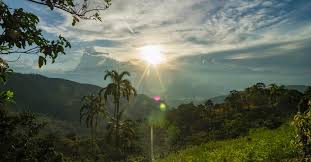 The Amazon Rainforest is home to 40,000 different plant species, and only one percent of these plants have been studied medically, according to the WWF. By burning down the forest, we are going to lose many plants that have not been studied and potentially get rid of plants that have the opportunity to cure many diseases.
To put it into perspective, the Amazon is less than two percent of the Earth's surface. Even though the surface area compared to the size of Earth is small, it still makes up more than 17 percent of our world's oxygen, as stated in OneTreePlanted.
The Amazon fire, if it completely burns the forest, will affect all of us worldwide, especially in the Americas. South America will have severe drops of rainfall and it is found that it will also severely decrease the amount of precipitation, of about 50 percent, on the west coast of North America, according to Pro Atlas.
This is irreversible! If we get rid of the Amazon, there is no turning back. Droughts would make it harder for the forest to grow back. The forest provides fertile, healthy soil and, without it, it will not provide any beneficial land for commercial use, which happens to be Jair Bolsonaro's intention for burning the Amazon.
It is only a matter of time before the Amazon Rainforest becomes something that only history can explain. Each voice matters and all of us collectively can make a difference in saving our beloved forest.