New Coffee Shop Finds Groove in Avondale
By: Jimena Chavez
OwlFeed Journalist 
If you're in search of a new spot to relax and sip good quality coffee, look no further than Aroma Mocha Cafe.
Aroma Mocha is a new coffee shop that opened up in Old Town Avondale in March of 2019. It is known for its breakfast menu and its large variety of drinks. 
I recently spoke to the owner of the shop, Mr. Ben and he gave me some background on Aroma Mocha. He says that his motivation to open up Aroma Mocha was his love for coffee. "We met some people that were in the coffee business and I have a little bit of management background, I've also worked extensively in fast food, so we decided to open up a coffee shop," Ben said.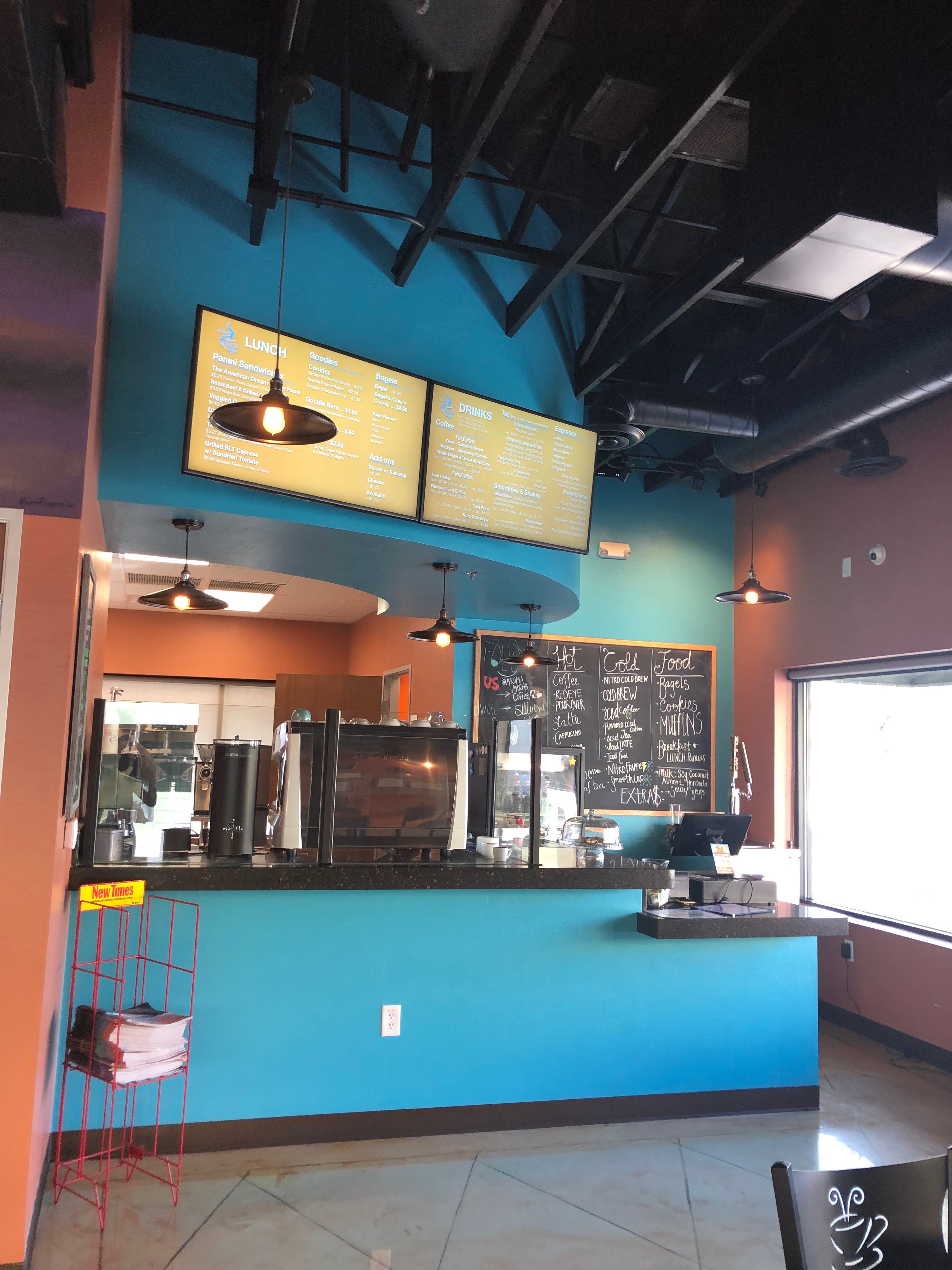 Ben says he likes the small community here in Avondale because it gives the coffee shop a special vibe. His original vision for the cafe was "coffee, sandwiches, and breakfast all day. A good place where the community can hang out and stay out of the heat." 
Due to the cafe's close location to a school, there is a good mixture of students, but there are also many citizens in the Avondale community who visit this coffee shop on the daily. Aroma Mocha's hometown is Avondale, but Ben plans on expanding it to many more locations around Arizona.
Mr. Ben also spoke about his thought process when designing the interior of the cafe. He mentioned how he purposely made the color scheme blue and orange based on research he did on color theories. While the color orange creates hunger and appetite, the color blue brings a peaceful, relaxing aura. 
"I do a lot of color research, the orange actually makes you hungry…and since we're a coffee shop we went with blue because it is a peaceful color that helps you relax," Ben said. "And actually blue and orange are opposite colors on the color wheel so it all balances out."
Aroma Mocha's menu has a lot of variety, from smoothies to frappes and even breakfast sandwiches, but their Nitro Frappes have been their most successful item. "We do frappes, but we use nitro cold brew instead of just regular coffee and they taste good, that's all I could say," he said. 
Following that, their smoothie, and regular iced coffees are the next most popular items on the list. 
Mr. Ben says his coffee shop is special because they want to help the community. "Everybody that works here is friendly, that's the most part, the way we engage with everyone," he said.
Mr. Ben said Aroma Mocha is a place where anyone can come and be themselves.
Aroma Mocha was nominated for Best Coffeehouse, Best Restaurant and Best Breakfast place by Newtown Magazine.
Aroma Mocha is a great place to relax and drink a good cup of coffee. Please make sure to go check it out. It is a great opportunity to become more involved with the Avondale community and to support small businesses in the making.