Pray for KyoAni
By: Stephanie Perez
OwlFeed Journalist
On July 18 at approximately 10:30 a.m., our beloved company Kyoto Animations, fondly known as KyoAni, was set ablaze in an arson attack. The results of the terrorist attack against KyoAni has devastated the company and its millions of fans.
Kyoto Animations is a Japanese animation studio located in Uji, Kyoto Prefecture, Japan. KyoAni is an exceptional female-managed workplace and is known for its numerous, critically-acclaimed works such as Clannad, Violet Evergarden, K-ON!, Free!, The Haruhi Suzumiya series and many more notable works.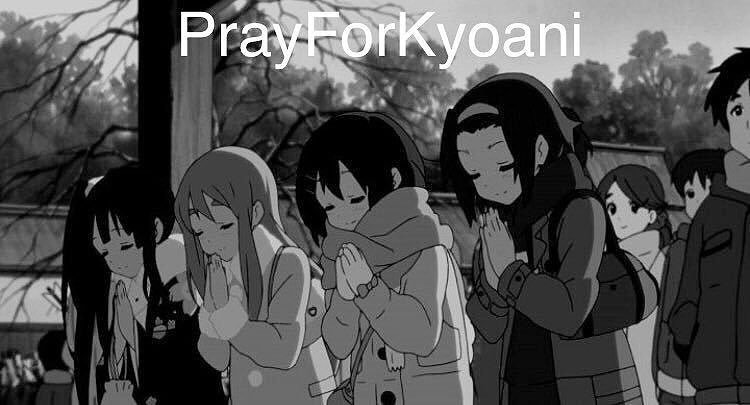 The company was established in 1981 and has been continuously crafting beautiful works of art, whether it be a movie, light novel, anime or short film. Kyoto Animation has become recognized for its high production values and picturesque aesthetics.
In the early morning, Kyoto Animations' peaceful studios were interrupted by a deadly attack. This attack was curated by Shinji Aoba when he poured 40 liters of gasoline on the first floor of Kyoto's building.
According to The Hollywood Reporter, "14 women and 11 men have now died, with 10 more, including the suspect, still hospitalized with burns. An arrest warrant for the suspect has been obtained by police, but he is still reported to be unconscious." 
No motive has yet to be established on why such a heinous act was curated but one motive has been speculated (from witness account) of KyoAni plagiarizing one of Shinji Aoba's submitted works. No direct evidence has surfaced to prove this, however. The Asahi Shimbun newspaper quoted a 61-year-old neighbor as saying she clearly heard the man shout: "You ripped me off."
From the tragedy's aftermath, one victim's father went on air with The Mainichi and discussed his hopes for the remembrance of the victims of this tragedy. "Atsushi [son] died without fulfilling his ambitions and I want his name to be remembered. He is not just one of the 35 [victims]," the father said. "I hope the fact that everyone who suffered unreasonable damage and had worked hard in Fushimi Ward or the city of Uji will be remembered for a long time."
Fans from all around the globe have sent their prayers and regards to the matters of Kyoto Animations, as well as starting a GoFundMe campaign titled "Help KyoAni Heal." Fans have also contributed by increasing online sales of KyoAni merchandise as well as raising awareness by sharing on their social media KyoAni´s various works and what the works mean to them.
Kyoto's tragedy has affected people all over, whether they were related to the incident or are just fans. Everyone can feel the aftermath of this tragedy but we must move forward and help Kyoto Animation heal. #HelpKyoAniHeal