"K-12" Displays Melanie Martinez's Creativity
After four years of waiting and one enormous scandal, Melanie Martinez has finally dropped her new album in the best way possible. Fans are psyched about finally being able to start pressing repeat on the new album, "K-12." 
Following Melanie's platinum album "Cry Baby," fans had high expectations. The previous album came with 13 songs, all of which would have a music video to go along with it. These videos came out over the course of the next year and a half, and a few came out as mini-movies with two music videos attached following a storyline. 
Instead of a normal release of a single or music video or just full album, Melanie went above and beyond with a movie surrounded by music. Before the release, Melanie gave a few song and movie snippets, making fans even more excited. Finally, on September 6th, the movie along with the album was released. 
In certain theatres for one night, fans go and see the film before it was released on YouTube. Sadly, I couldn't go see it in theaters, but you definitely know I watched the hour and a half film the next day. 
The movie surrounded Cry Baby, who was the focus of the last album. The synopsis from the Melanie Martinez Fandom site is:
"Cry Baby, a strong and sensitive girl, is sent off to a disturbing sleepaway school that's hidden underneath a grandiose façade. Luckily, she has a sweet and unapologetic best friend who sticks up for her when she gets bullied by the other students whose brains are under control by the Principal and his wicked staff. With the help of the magical friends they meet along the way, as well as an Angelic Spirit Guide, they are able to gain the strength they need to fight off the school's belligerent patriarchal conditioning."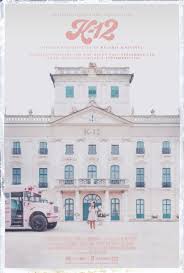 The aesthetically colored movie, written and directed by Melanie, explores concepts of life as portrayed in a school setting, such as body issues and sexism. Listening to the metaphors and reading between the lines, beautiful hidden meanings will appear. 
The songs appear in the following order in the album and film:
Wheels on the Bus

Class Fight

The Principal

Show & Tell

Nurse's Office

Drama Club

Strawberry Shortcake

Lunchbox Friends

Orange Juice

Detention

Teacher's Pet

High School Sweethearts

Recess
Personally, my favorite song would have to be "Drama Club" because it relates so much to high school and everything that is going on today. However, I think the second best song and best video would be "Show and Tell." 
To Billboard, Melanie said, she hopes that her fans get the message and love it. "Even though there was the intention to help people heal if they resonate with it, it was really an outlet to express creatively or tell a story," she said.
A lot of people have been hating on Melanie for this weird style of music or for choosing to make an album about a child, but her fans (including me) have loved the new album.
"Martinez breaks the mold of typical pop artists," Macy Wilbur said in her review on the Daily Free Press. "So, if you want to be angry at society while bopping to chill songs, 'K-12' is perfect for you, even if you're in college."
On the other hand, however, reviewers on rateyourmusic.com said things more negative about the album like user @aaaaaaarghmakeitstop said, "As a finished project, it's not as cohesive, as subtle or as memorable as Cry Baby and seems to contain a disappointing amount of 'filler' tracks – clearly written with the accompanying film in mind so that less thought was given to the beats as to the lyrical content. However, as a visual concept album, it's still an impressive feat."
The movie is very impressive as Melanie wrote and directed it, along with writing and recording the music going along with it. "I really just wanted to make something that was thrilling to watch from beginning to end that would capture your attention and not leave you bored."
That is how a lot of fans felt. However, it did leave on a bit of a weird ending that could also be considered a cliffhanger. Melanie has suggested there will be a closure to the story sometime in the future, as she already has her next two albums and films planned. 
We are all hoping it doesn't take as long to get a new one, but in the meantime, we are left with a great album and film to enjoy.