The Heroes Are Back! My Hero Academia Returns With Season 4
By: Stephanie Perez
OwlFeed Journalist
Attention all Heroes! Deku and his heroic friends are back in action in My Hero Academia's newest season coming October 12. This exciting, newest chapter in the saga is finally coming from black and white paper, beautifully colored animation.
Season 4 will most likely cover the entirety of the Internship arc. This arc follows the young heroes newest journey into becoming pro heroes as they follow as underlings under various assigned pro-heroes who have taken an interest in them. Season 4 will also retake their position in addressing its cliffhanger left in season 3 when U.A. High's "Big Three" are introduced briefly.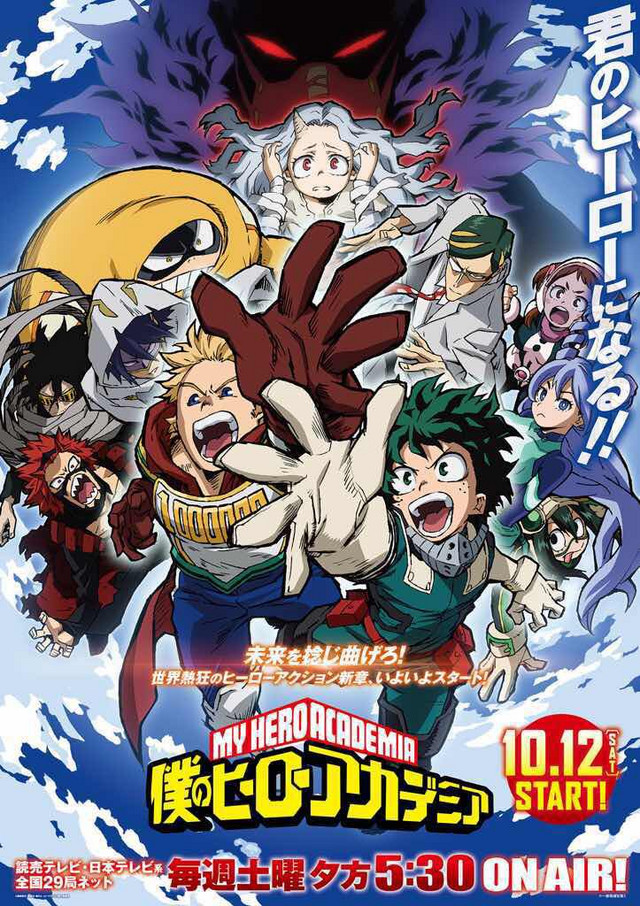 According to DenOfGeek.com, "Mirio Togata [The strongest of The Big Three] announces to Midoriya and his class that their next major task will be internships with major Pro-Heroes. Season 4 will also further the growth of the show's new, powerful characters from both the hero and villain departments, like All Might's former sidekick, Nighteye, and the heroes newest foe, Overhaul (who's in full form in season four's brief teaser from Jump Festa).¨
Continuing, "Season four is very much still a part of the larger 'Rise of the Villains' saga and that short teaser indicates that Shigaraki and his evil team will continue to gain power and out-maneuver the good guys.¨
Although, despite season 4 being the newest installment of the saga, those who have been following with the manga do however know the high importance of the new season's arcs. My Hero Academia will finally tackle the darker world of its story plot, this being one of the most heartbreaking seasons of them all. Yet, this season will be full of many eye-opening character developments, plot developments and overall furtherment. 
We are introduced to many new, diverse and lovable characters from students to heroes and sub-characters that'll all further and really make season 4 remarkable.
Many teasers have been released the past couple of months concerning season 4, including posters and teaser videos addressing the plot and its newest characters. 
Another teaser being the sub and dub simulcast that have been set to air the same day, this being because English dubs of ongoing shows tend to release a week AFTER the original Japanese dub. Funimation [The voice-acting company that had dubbed all the seasons of My Hero Academia since the beginning of its release] confirmed on their Twitter page ¨GO BEYOND! We're excited to announce that My Hero Academia Season 4 will be a SAME-DAY Simuldub! Plus Ultra!¨ 
Funimation further addressed its tie-in with season 4 by teasing the plot as such,"The villain world teeters on the brink of war now that All For One is out of the picture. Shigaraki [the leader] of the League of Villains squares off with Overhaul- leader of the yakuza, vying for total control of the shadows. Meanwhile, Deku gets tangled in another dangerous internship as he struggles to keep pace with his upperclassman—Mirio."
It seems there is a lot in store for our young heroes with new foes, friends and challenges to come, but despite adversity remember, PLUS ULTRA!